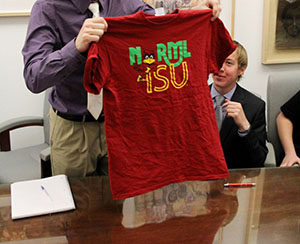 College students' free speech rights were endangered by a 2013 court ruling that at first glance had nothing to do with them – essentially criminalizing violent rap lyrics on Facebook.
First Amendment student advocates are back at the Supreme Court now to argue that another unrelated case will be used to stifle what students can say and do on campus.
The Foundation for Individual Rights in Education (FIRE) filed a friend-of-the-court brief asking the high court to uphold a ruling that says "specialty license plates" aren't government speech. The ruling concerns a "Confederate veterans" group that wants their own plate in Texas.
What's the student connection, you ask?
If the Court … holds that the messages and images that appear on state-issued specialty license plates are government speech, public college administrators nationwide will exploit the ruling as a new opportunity to further restrict protected expression on campus. Should this Court decide that specialty license plates are government speech because state officials are involved in the production process, college and university administrators will soon claim student and faculty expression that involves university procedures is likewise "government speech" that they have the power to control and censor.

Despite this Court's repeated recognition of the crucial importance of free speech on public college campuses, censorship of student and faculty speech is endemic. In FIRE's experience, college administrators often exploit perceived ambiguities in the law in an attempt to justify restrictions on faculty and student speech. Many colleges already wield dubious claims of trademark infringement against students and faculty in order to curtail speech that is controversial or critical of the institution, alleging that such speech will be mistaken for institutional speech—a contention that touches upon the core issue in this case.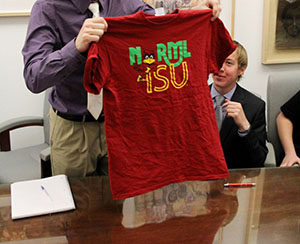 One of those instances is happening at Iowa State University, where the administration has told a pro-marijuana campus group it can't wear T-shirts advocating its cause because they say "ISU" and have the school's cardinal mascot, implying the school endorses illegal drugs.
FIRE is litigating that case as part of its Stand Up For Speech project, and a judge has already ruled that the case can go forward, including against ISU's president in his personal capacity. The group told the high court:
In fact, FIRE is aware that at least one university is awaiting the outcome of this case to support its argument in federal district court that a student organization's T-shirts amount to institutional speech and may thus be censored without violating the First Amendment. In denying the university's motion to dismiss, the judge stated that the university's argument could not provide a legal basis to dismiss the case at present but that the issue was undecided and this case was before the Court.
The Supreme Court needs to be aware of unintended consequences from its rulings, FIRE said, referring to the Garcetti decision, which said public employees can be punished for making "statements pursuant to their official duties":
When this Court left open the possibility that its holding in Garcetti was applicable to the scholarship and teaching of public university professors, universities immediately began to argue—with success in some circuits—that such speech was unprotected, to the continuing detriment of academic freedom on campus. Absent an explicit holding that the speech of students and faculty on public university campuses is presumptively private speech, a holding for Petitioners would do similar damage to freedom of expression.
In a blog post explaining its brief, FIRE notes that trademarks are also at issue in another Stand Up For Speech case,  at Chicago State University, which involves a faculty blog that's critical of the administration and has been targeted for censorship on "government speech" grounds.
Like The College Fix on Facebook / Follow us on Twitter
IMAGE: NORML ISU