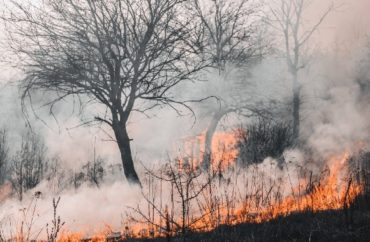 Gary Maynard taught classes in deviance
A professor described as an expert in "deviant behavior" faces federal arson charges for allegedly setting a number of fires in national forests.
According to an August 8 federal complaint reported on by KCRA, "there is probable cause" that Gary Maynard "committed violations of [a federal arson law], which criminalizes willfully setting fire to any timber, underbrush, or grass upon lands owned by the United States." The fires were set in July, according to the complaint.
Maynard does not currently hold any teaching positions, but he has previously taught at several California universities.
His teaching and research has focused on "sociology of health, deviance and crime," "environmental sociology" and "social psychology," according to an archived August 2020 news release from Sonoma State University. "Dr. Gary Maynard is listed as a lecturer in criminal justice studies specializing in criminal justice, cults and deviant behavior," according to The Sacramento Bee. However, his faculty profile has been deleted and shows an error message.
"Gary Maynard was an adjunct faculty member in the sociology department at Santa Clara University from September 2019 to December 2020," Santa Clara University told the Sacramento Bee.
"The area in which Maynard chose to set his fires is near the ongoing Dixie fire, a fire which is still not contained despite the deployment and efforts of over 5,000 personnel," a federal prosecutor told a judge, according to The Daily Wire.
Law professor predicts insanity defense
Professor Jonathan Turley, who teaches law at George Washington University, suggested that Maynard will raise an insanity defense.
"There is an abundance of evidence of a mental disability and crisis in this case," Turley wrote on his website. "This is someone who clearly needs help and hopefully will now get some. The question will become whether that evidence is sufficient as an insanity defense."
"Maynard's counsel can seek to prove insanity before a jury and, if successful, he would be committed to a state mental hospital," Turley said.
A Santa Clara colleague of Maynard previously reported concerns about Maynard to the San Jose Police department, according to the federal complaint.
"[A] concerned citizen told officers that Maynard had told her he was suffering from anxiety, depression, split personality, and that he wanted to kill himself," the court filing said.
MORE: Middle schooler faces criminal charges for cutting peach with butter knife
IMAGE: VladyslavDukhin/Pexels.com
Like The College Fix on Facebook / Follow us on Twitter