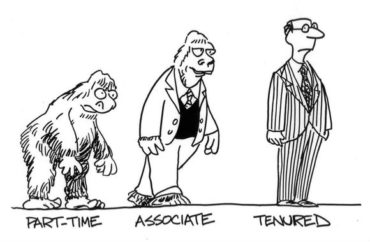 It's a 'matter of public concern,' even if it's about personal experience
Texas Tech University didn't like that one of its professors kept bashing tenure in public, so it allegedly retaliated against him, and he sued.
Now James Wetherbe's case is heading to trial after a Texas appeals court ruled that his comments against tenure – published widely over the years – constitute a "matter of public concern" and are thus protected by the First Amendment.
This state case is different from Wetherbe's viewpoint-retaliation lawsuit in federal court, which was upheld by the 5th U.S. Circuit Court of Appeals last summer.
Wetherbe has qualified for tenure multiple times, and he explicitly rejected it when offered by Texas Tech. He previously told The College Fix it would be better for students, parents and professors if universities offered them rolling contracts rather than guaranteed employment, which protects bad teachers.
The Court of Appeals for the Seventh District of Texas at Amarillo said a trial court erred by dismissing Wetherbe's suit "for want of subject matter jurisdiction," and remanded the case to that court.
MORE: Tenure-hating prof can sue officials for viewpoint retaliation
The state lawsuit alleged retaliation by Texas Tech for his continued public criticism of tenure after Wetherbe filed his federal suit:
Particularly, Wetherbe's petition included a chart identifying articles he authored on tenure or concerning his position on tenure. Corresponding to the publication dates of these articles were events which Wetherbe alleged constituted adverse retaliatory conduct.
They included "denial of access to data pertaining to a specific scholarship fund," removal from an associate dean position and from teaching a course, demotion to "professor of practice," and notification of what Wetherbe called an "unfounded sexual harassment allegation."
Texas Tech said his speech wasn't a matter of public concern, so it wasn't entitled to constitutional protection that supersedes his contract.
But the opinion by Justice James Campbell says Wetherbe has surmounted the "sovereign immunity" challenge because his tenure criticism was not part of his "official duties" and it was made in the context of an ongoing public debate about tenure.
Criticizing tenure is protected by First Amendment, Texas appeals court rules by The College Fix on Scribd
MORE: Prof ends weeklong hunger strike for tenure with tacos
His views were published in opinion pieces or quoted by reporters, from the Harvard Business Review to the Financial Times. Williams noted that not all the work Wetherbe cited mentioned his federal litigation with Texas Tech, meaning it's not unprotected as an "extension of an employment dispute."
The court also said Wetherbe's "personal involvement" with tenure did not "necessarily" disqualify it from protection as a matter of public concern, and pointed to a yearslong debate in major newspapers on the value of tenure:
These Wall Street Journal and NYTimes.com pieces, and the comments from readers, indicate Wetherbe's speech was made in the context of an ongoing public debate that did not begin with Wetherbe.
"Accepting as true the factual allegations of Wetherbe's petition" at this stage of litigation, "and considering the form, content and context of the speech he alleges to be constitutionally protected, as reflected by the entire record," the appeals court agreed his speech involved a matter of public concern.
Wetherbe's lawyer told Inside Higher Ed that he looks forward to "receiving a redress for these damages as soon as possible," and Wetherbe himself wants to settle, saying most of the dispute lies with a dean who has since left the university.
Texas Tech continues to deny it has ever taken actions against the professor "for his position on tenure or for any articles he has written about tenure or any other subject," and that it will pursue "other dispositive motions" in the case.
Read the lawsuit and Inside Higher Ed report.
MORE: 'Talent for teaching' is irrelevant in tenure decisions
IMAGE: Cartoon Resource/Shutterstock
Like The College Fix on Facebook / Follow us on Twitter