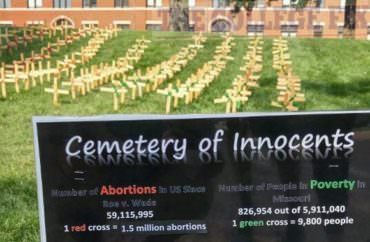 A pro-life display and crosses highlighting those impacted by abortion, homicide, poverty and the death penalty was taken down last week by a pair of vandals at a Catholic university.
Saint Louis University has launched an investigation after the Students for Life's "Cemetery of Innocents" was allegedly removed by two individuals on Oct. 16. The incident occurred two days after group put up the display.
"My initial reaction was shock. I understand that people disagree with us, even on a Catholic campus, but I never thought they would go to the extent of stealing," Abby Purcell, secretary of Students for Life, told The College Fix in an email.
Members of Students for Life organized the display, located on a grassy area of the university's quad, on Oct. 14. The first component of what was supposed to be a two-part display, the "Cemetery of Innocents" included crosses meant to represent those affected by poverty, abortion, the death penalty and homicide with color-coded ribbons marking the specific issues.
Purcell said she was studying the evening of Oct. 16 with her boyfriend when he received a call from a friend who said he was speaking with a male who was removing the crosses and was accompanied by a female.
"This man and a girl claimed to be from Students for Life but our friend was suspicious so he called us to see if we had arranged for anyone to remove the crosses, we had not," Purcell said.
Both were wearing dark clothing and seemed to be around a college student's age, according to Purcell.
Betsy Daly, president of Students for Life, told local television station KMOV that an eyewitness saw the two individuals putting the crosses in a cloth bag.
Purcell said the university's Department of Public Safety has opened an investigation into the incident and that security footage photos have been sent to resident advisors in an attempt to possible identify those who removed the display.
A university spokeswoman did not respond to The College Fix's request for comment regarding the investigation.
In an email sent to the campus community on Friday, Saint Louis University President Fred Pestello condemned the display's removal and said the incident is "a distressing violation of our University's values."
"The eradication of any University-sanctioned display that expresses the religious and political beliefs of one of our student groups is at best an act of suppressing free speech and at worst an act of unacceptable intimidation," Pestello said.
Navigating our differences is difficult. Read my full message on the removal of SLU Students for Life display https://t.co/guwTrijZKQ pic.twitter.com/X3l0MqqYUh

— Fred P. Pestello (@SLUPresident) October 23, 2017
Despite the initial shock, Purcell said she's "determined that this was a good opportunity for our group to become closer and do more." The group plans to put the display back up this week, she said.
However, Purcell added it's disappointing the display was stolen on a campus dedicated to Catholic values and promoting the dignity of human life.
"We believed that at least some part of the display would resonate with the whole campus. We were also disappointed that these individuals felt as though they couldn't talk to us about our beliefs and had to resort to sneakily stealing our display at night," she said.
MORE: Nearly 200 pro-life posters torn down at Catholic university
MORE: San Jose State University lecturer threatens to 'beat the s**t out of' pro-life protesters
Like The College Fix on Facebook / Follow us on Twitter