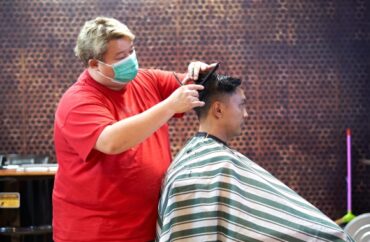 Stylist: 'Hair holds trauma' for some students
Cal State University San Bernardino has given out more than 100 free haircuts to students since its "gender affirming" Queer Cuts program began last year.
A project of the university's Queer and Transgender Resource Center and Pan African Student Success Center, the project provides free hair cuts and braids in a "safe" and "affirming environment" to students on campus, according to the center's Instagram account.
Lee Stovall, coordinator of the Queer and Transgender Resource Center, began the program last year to help students gain an appearance that "feels more them," The San Bernardino Sun reported.
"It's a scary time to be queer and trans right now," Stovall said.
Since last year, Stovall's center has worked with local hairstylists to provide free services to more than 100 students, many of whom identify as transgender, nonbinary or gender-nonconforming, according to the report. Stovall said "cisgender" students also are welcome to participate.
The most recent Queer Cuts event at the public university took place Oct. 18 on campus.
"I'm just trying to make the lives of queer and transgender students easier and safer, and that's why I'm here, and that's why I'm in higher ed and Student Affairs," Stovall said in a statement on the university website.
One of the stylists this year, Bec Farrell told The Sun some hairstyling businesses "can be very intimidating and toxic for queer people," and providing a safe environment is important.
"Hair holds trauma, in my opinion," Farrell said. "Anytime I felt like I needed to start anew, I've shaved my head and that helps me embrace a new chapter in life. I wanted to really break the binary in hair, because hair doesn't have a gender."
Student Ariz Martinez said getting her hair done at Queer Cuts helped relieve some of the stress she had been feeling about work and school.
"I feel so much better," Martinez told The Sun. "I feel happy I brought myself today."
Most universities now have programs and events dedicated to students who identify as LGBTQ.
Earlier this fall, Villanova University hosted a "Queer Spin Class" as part of its "Inclusion Week."
Canada's Humber College Arboretum also held a "Queering Nature" event this summer where participants walked with staff to "talk about the many ways we see queerness in nature."
MORE: Universities welcome students back with 'Queering Menstruation,' 'Anal 101' events
IMAGE: Western Exotic Stockers / Shutterstock.com
Like The College Fix on Facebook / Follow us on Twitter