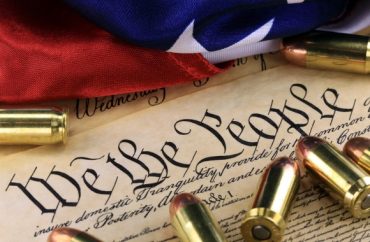 UPDATED
'All the ordinance does is infringe on our Second Amendment right'
Some pro-Second Amendment college students have joined efforts to fight a new ban on assault weapons in Boulder, Colo.
It's a city known as a haven for left-wing causes, but right-of-center students who call the region home say the ban is unconstitutional and want it reversed, including a 20-year-old CU Boulder student.
A lead plaintiff to overturn the law, which takes effect in January, is 20-year-old Tyler Faye, a member of the CU Boulder Shooting Sports club. He joined the lawsuit because the city's new ordinance raises the age for legal firearm ownership from 18 to 21, the Daily Camera reports.
"Boulder is clearly discriminating against students who live within city limits and is preventing us from exercising our constitutionally protected rights," Faye told The College Fix by email.
"By focusing on age, instead of on criminals, Boulder is preventing law-abiding college students, like myself, from defending themselves and their homes," he said. "It was important to me to stand up for all of the young adults in Boulder and represent to the country just how wrong this is."
Faye has support among some of his peers.
"The students most affected by the Boulder City ordinance are the ones on the shooting team, members of gun clubs, and any student who is a legal firearm owner with the city limits. However, it's not just these students who are having their rights taken away, but all students," said CU Boulder junior Barrett Barker, a conservative activist, in an email to The College Fix.
In addition to the lawsuit, several college-aged students from the region joined a pro-Second Amendment rally in the city in April. Demonstrators at the protest held signs with messages such as "Gun Free Zones are Sitting Duck Zones" and "My Assault Rifle Self Identifies as a Personal Defense Weapon," the Daily Camera reports.
A campus spokesman told The College Fix via email: "We don't have a position on the Boulder ordinance. Boulder residents, including our students, are bound to follow city, state and federal laws."
The Boulder City Council recently voted unanimously to approve the ban on the sale and possession of assault weapons, bump stocks, and high-capacity magazines. This was the city's attempt to rid the area of what they consider militaristic weapons, such as AR-15s. All citizens who bought these weapons prior to the vote will be required to register with the Boulder Police Department and keep the registry with the weapon at all times.
"Supporters of the ordinance say that this weapons ban will protect our children in school," Barker said. "In reality, all the ordinance does is infringe on our Second Amendment right and is pointless in its desired purpose, like so many other bans."
"If a criminal is wanting to acquire a firearm, they will use any means necessary to get one. Instead of trying to ban firearms in the name of safety, we should be talking about solutions that will actually make a difference."
The ban was first introduced in February, following the Marjory Stoneman Douglas High School shooting.
Cody Wisniewski, an attorney with Mountain States Legal Foundation, which is representing the plaintiffs pro bono in the lawsuit against the city, told The College Fix the ban is "tantamount to Boulder attempting to stop drunk driving by banning Subarus."
"It accomplishes nothing other than making criminals of law-abiding citizens," he said.
Editor's note: The article has been amended to add a statement from Mountain States Legal Foundation, which is representing the plaintiffs pro bono.
MORE: Student booted for supporting Second Amendment
IMAGE: Shutterstock
Like The College Fix on Facebook / Follow us on Twitter