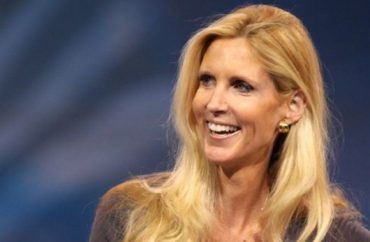 'Paper towels and trash cans had been removed from the restrooms out of safety concerns'
A speech by conservative author Ann Coulter was marked by a 100-student walkout at the University of Colorado Boulder this week.
The speech, which was also beset by protesters chanting things like "This is what solidarity looks like," was part of a free speech event put on by the university's Turning Point USA chapter, The Daily Camera reported.
Coulter, who needled immigrants, Democrats and California as part of the speech, was speaking before an audience of nearly 500. However, after about 15 minutes, "about 100 people stood up and walked out en masse," The Camera reported.
"Now that we have just adults in the room, I can really cut loose," Coulter said, according to The Camera.
One attendee accused Coulter of "blurring the line between free speech and unproductive hate speech."
The Supreme Court has repeatedly held that there is no "hate speech" exception to the First Amendment.
The university and Boulder police sent employees to a Coulter event in California earlier this month to help CU prepare for her appearance. The employees reported that the private event in California was well-attended and went off without any disruption.

Inside the auditorium, a smattering of people wearing the "Make America Great Again" hats associated with Trump could be seen taking their seats, as well as people wearing "Black Lives Matter" shirts and a homemade shirt denouncing the National Rifle Association. Numerous women donning hijabs, the traditional Muslim head scarf, also came to see the speech.

CU student Dillon Stevens came to the event in his red MAGA hat, which he said he doesn't wear every day because he is harassed for it in Boulder. He claimed that he had been spit on off campus for his hat choice.

Stevens said he saw CNN anchor Anderson Cooper speak on campusearlier this month and came out to see Coulter on Wednesday night — not because he agrees with everything she said, but because he wanted to hear some of his political viewpoints affirmed.

"Being a conservative at a liberal town and a liberal university is pretty tough," he said. "It's pretty hard for me to voice my views because I get called a racist and a misogynist."
According to The Camera, "Police from Boulder, the Boulder County Sheriff's Office, CU and the Adams County Sheriff's Office maintained a strong presence in and out of the Cristol Chemistry building, and paper towels and trash cans had been removed from the restrooms out of safety concerns." It is not clear what danger the paper towels presented to the speech.
MORE: UC-Berkeley will get sued if it doesn't let Ann Coulter speak on her original date
Like The College Fix on Facebook / Follow us on Twitter