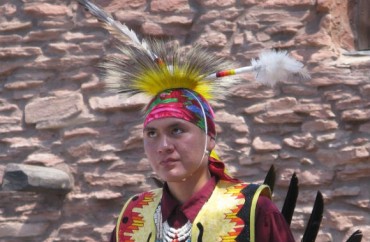 On Monday, Dartmouth's Greek Leadership Council passed a new rule which forbids Greek houses from displaying the Dartmouth Indian head.
Dartmouth's frats and sororities are already banned from "engaging in acts of cultural appropriation," The Dartmouth reports. For some reason, they saw a need for a new decree regarding the Indian head specifically.
"Parties who see the Dartmouth Indian on display at a Greek house, or those who otherwise feel Greek houses are engaging in cultural appropriation, can make a complaint to the Greek Board on Accountability," GBA chair Taylor Watson '16 said.
"Houses found in violation of the new rule by the GBA will be required to pay a fine, the monies of which will be given to an organization or event agreed upon by the GBA and offended party or individual."
The new rules apply to organizational, public displays of the Dartmouth Indian head, Watson said, not to individuals who choose to display the symbol. For example, an individual in a Greek house who chooses to wear a shirt displaying the Dartmouth Indian has a free speech right to wear that shirt, but if that shirt also encourages students to rush that house, it would be considered a violation, he said. Similarly, those who live in Greek houses can choose to decorate their own rooms as they wish, but the house cannot make public displays showing the Dartmouth Indian, such as a pong table.
RELATED: Student Radicals Force Dartmouth Administrators To Cave
The change was passed in part as a response to the display last term of a pong table stolen from Theta Delta Chi fraternity displaying the Dartmouth Indian head, Watson said. Other groups had also expressed complaints about Greek houses displaying the symbol, he said. While many of these changes were written last fall, the amendments were not passed until now because additional reforms to the structure of the GBA needed to be made first, Watson said.

The GBA was originally proposed by GLC members of the Classes of 2014 and 2015 to give the GLC increased ability to enforce its policies over its constituent houses, Watson said. It can adjudicate issues involving Greek houses in a trial-like fashion and impose penalties, such as financial payments or mandatory community service.
To no one's surprise, Gender Inclusive Greek Council president Veri di Suvero said the new rules will serve to "promot[e] greater inclusivity and awareness within Greek houses."
Also to no one's surprise, Di Suvero's group also will discuss updating the rules "to grant anonymity to those who choose to make accusations" – because students may fear "harassment or retribution" if they voice their displeasure at traumatizing culturally appropriating images.
A commenter to the article disputes the claim that Greek members are yet protected by the First Amendment … that is, still permitted to wear shirts displaying the Indian:
"Individuals in Greek Houses no longer have the right to wear the Indian head shirt or any shirt deemed 'offensive' by any individual. Two years ago, IFC/GLC passed an amendment making any member reported for wearing something that the reporter considered offensive subject to disciplinary action."
RELATED: Dartmouth whine fest examines 'intersectionality' to see who's more oppressed, privileged
Like The College Fix on Facebook / Follow us on Twitter
IMAGE: Artesia Wells/Shutterstock