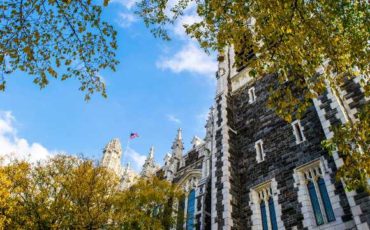 Two campuses in the City University of New York system will work together on an institute to train social justice activists.
The "Leadership for Democracy and Social Justice" institute will be located at The City College of New York and the CUNY School of Labor and Urban Studies.
The goal is to reach 10,000 leaders in the next five years "through expanded programs such as online courses and regional workshops," according to CUNY's announcement.
Recruitment for the institute will focus on "leaders who represent diverse communities, including people of color, women, LGBTQ+ leaders and leaders from working class and low-income backgrounds."
A CUNY spokesperson said the institute will be open to "differing viewpoints."
"As a public institution, we are non-partisan," Dee Dee Mozeleski told The College Fix June 27 via email. She is a senior advisor to CCNY President Vincent Boudreau.
She said the institute "supports the safe expression of freedom of speech promised by [the two campuses'] shared vision to provide access to an excellent education to all students with talent."
"That commitment means that differing viewpoints are welcome and opportunities for respectful discourse remain a bedrock of what we stand for as places of higher learning," Mozeleski told The Fix.
"The new Leadership of Democracy and Social Justice institute builds upon a 175-year history of ensuring that our university system serves the 'whole people' of New York City and the nation," she said in her email.
The Fix also reached out directly to CUNY officials Andrew Rich, Deepak Bhargava, and Gregory Mantsios to ask about the institute's views on political viewpoint diversity, but it did not receive a response.
"The new institute serves an essential role in our society," Boudreau, president of The City College of New York, said in the news release. "It recognizes that our city and nation become stronger if we invest in young leaders who are organizers and movement builders."
The program has already held its first trainings for 24 early-career Social Change Fellows and 24 mid-career Movement Leader Fellows, the release stated.
Program leaders have backgrounds in liberal advocacy organizations
Despite Mozeleski's assurance that differing viewpoints will be welcomed, one advisory board member has declared some clear priorities.
"We're facing a series of interconnected crises, from climate change to economic inequality and assaults on civil and human rights," Bhargava stated in a news release from CUNY.
Other leaders have worked in left-leaning activist groups.
Executive Director Jessica Brown is a former advocacy leader for Planned Parenthood and also ran an organization encouraging people to sign up under Obamacare.
Ricardo Carrasquel, a project coordinator, started a club in college that "was meant for undocumented students and their allies," according to his bio on the institute's website.
Nathalie Depeche, an executive coordinator, also spends time as "an active member of the New York City Black Women's Political Club and the Brooklyn Branch of the NAACP."
Advisory board member and instructor Cristina Jiménez wants to see immigration activists trained by the institute. "This is the kind of leadership building infrastructure we need for our movements," Jimenez stated in the news release. She said the training "is vital to support the current and future generations of leaders of color to take our movements and organizations to the next level."
The goals of the organization she founded and co-manages, United We Dream, include "opening doors for LGBTQ immigrant youth, clearing pathways to education [and] stopping deportations." Other goals include "creating alliances across social movements" with the aim to "[put] undocumented immigrant youth in the driver's seat to strategize, innovate and win."
MORE: Case Western Reserve University offers paid social justice fellowships
IMAGE: City College of New York/Facebook
Like The College Fix on Facebook / Follow us on Twitter