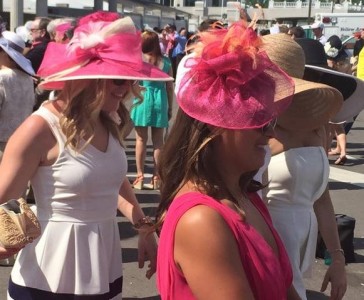 Notorious for its preppy attire, the party has become something of a symbol of campus exclusivity
An annual Kentucky Derby-themed party held by a sorority at Dartmouth College has been accused by campus #BlackLivesMatter protestors of being overtly racist and recreating an Antebellum South atmosphere on the Ivy League campus.
A group of about 20 protestors crashed the party, standing outside of the May 2 function carrying signs declaring "black rage" and accusations of oppression. They also used a bullhorn to amplify their chants at revelers.
"I can't breathe," was repeated, as well as, "What is Derby? It's the face of genocide," and, "What is Derby? It's the face of police brutality," according to video of the protest. They also yelled "our brothers are dying, our sisters are dying," and held a die-in, lying on the street.
RELATED: Dartmouth 'Baltimore' protesters decry single-sex frats and sororities, lack of black profs
The Dartmouth Student Assembly President-elect attended the Derby party, and engaged protestors in a heated debate, which has prompted student activists to demand his resignation. While the president-elect is a gay, black student who holds left-of-center positions, one of the protestors purportedly accused him of being an "Uncle Tom."
As the protest unfolded last Saturday, partygoers – dressed in pastels, fancy hats and sun dresses – had mixed reactions, the video shows. Some ignored the demonstration, while others just glanced at the spectacle. A few attendees appeared visibly upset.
"Derby" is an annual invite-only party hosted by Kappa Delta Epsilon and held the same weekend as the Kentucky Derby. Over the years it has been criticized as celebrating rich, elite students and creating an outcast aura for the so-called have-nots. Notorious for its preppy attire, the party has become something of a symbol of campus exclusivity.
RELATED: Dartmouth Students Claim Racial Oppression, Threaten 'Physical Action' 
In response, several alternatives to the event are offered: a neighboring fraternity hosts a cookout open to all students, while another fraternity hosts "Anti-Derby," an open event featuring a massive mud pit. In fact, many students who start their day at the Derby party later on leave to attend the other two parties.
While most students are content to protest Derby's exclusivity by participating in these alternatives, others, it seems, are not.
Saturday's demonstration was the first time the party was crashed by protestors. Yet many #BlackLivesMatter demonstrators donned sun dresses and other clothes similar to outfits worn at the Derby party. Moreover, the video shows them at times laughing, smiling and chuckling as their protest unfolded.
Meanwhile, some protestors have since demanded that the president-elect of Dartmouth College's Student Assembly resign. Frank Cunningham had left Derby to confront his angry peers, and at one point that interaction got a bit heated, although never physical.
Cunningham had approached two of the protesters, both black women, one of which he appeared to know, the video shows. Their civil conversation then became lively, and Cunningham, visibly disturbed, retreated. After some time, Cunningham and one of the women started to talk to each other.
Several campus sources have told The College Fix that Cunningham was called a "Tom," a shortened form of the epithet "Uncle Tom," which is used to refer to black Americans who are perceived as "sucking up" to "the white man" and "betraying their own kind."
Other witnesses allege that further similar remarks were made, but the video does not confirm or deny any of these reports, as the chanting blocked the sound. What can be seen is the two proceeded to exchange words, and Cunningham leans close to her face while allegedly shouting "I can't breathe" in a mocking tone.
Now Cunningham has been accused of acting in a threatening manner, and students have launched a petition calling for his resignation. The petition states that he "taunts, mocks, screams, and forces his way into the face of a female Dartmouth student protestor." It argues that "despite ones' (sic) views of the protesters or their message, surely such embarrassing behavior by the president-elect of Student Assembly is uncouth, unjustified, and counter to the values of mutual respect…." At the time of publication, the petition had 450 signatures.
The website used for the petition allowed signatories to provide reasons for their backing or comments. While many of the comments were alarming, three stood out as particularly worrying.
Sadia Hassan wrote that, "to insinuate that the woman must have incited this violent act is nothing short of victim blaming." Nana Adjeiwaa-Manu argued that, "Frank's behavior was incredibly disrespectful and shameful especially considering he is a black man himself and the protesters are protesting for people who look like him." Most vulgar was Josheph Ramsawak, who commented that, "We ain't here for f*ckboys and shoe-shining coonery."
On May 6, Cunningham apologized to the student body through email, writing:
Dear Community,

I would like to take this opportunity to apologize for my actions seen in the video taken at the protest. I had no business approaching a female member of our community in that way and I understand how my actions came off as threatening. I can say nothing more than I allowed my emotions to get the best of me in a heated moment after being called a derogatory name. At no time is my behavior excusable and I'm sorry for causing this burden on our community. As a minority queer student myself, I would never want my actions to make an individual feel silenced on this campus. Ensuring a safe community for all of us is my main priority and I want to prove that to you all over the next year. It hurts that it's been perceived that I am not a supporter of the #Blacklivesmatter movement, but I sincerely hope that my imminent plans and initiatives aimed at addressing these nationwide issues and issues at home are indicative of my commitment. Overall, I'm a human being, I made a mistake, and I am deeply sorry. These last few days have been very emotional for me, and I promise it won't happen again. …

I promise you all that I will regain your trust. Best, Frank
College Fix reporter Sandor Farkas is a student at Dartmouth College.
Like The College Fix on Facebook / Follow us on Twitter