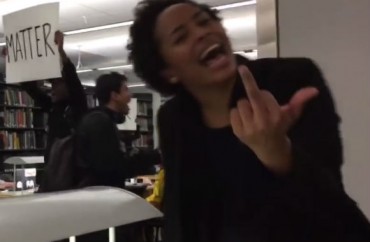 Black Lives Matter 'elites … are making a mockery out of real suffering'
A group of counter-protesters at Dartmouth University is using the language of the gay-rights movement to criticize Black Lives Matter protesters who stormed the Baker-Berry campus library last month.
The anonymous group, Dartmouth Pride, says its mission is "the fight for equality and tolerance" and "NOH8" (no hate), but is coy about its composition.
It sent an email Friday night to "members of the media and the community," including The College Fix, that includes a link to its website, asking for "feedback." The message concludes: "Let's fight to keep the spirit of tolerance, inclusiveness, and dialogue alive."
Seeking to rebut anticipated criticism that the group is an emblem of white privilege, Dartmouth Pride told The Fix in an email that "folks would be surprised if they knew our racial makeup. This is not a black vs. white issue."
Dartmouth Pride's manifesto accuses "certain" library protesters of "hate speech, race hatred and misogyny." Students who were trying to study "were not slave-owners or oppressors," yet protesters "disparaged, degraded, and acted belligerently toward them."
It accused protesters of attacking "safe places for women" by entering the library and intimidating them "based on two criteria: their skin color and their desire to learn."
By failing to "speak truth to power" but instead harassing their peers, Dartmouth Pride claims the protesters "damaged the cause of social justice on campus."
"Legitimate groups argue on the merits of their case," the manifesto reads. "They don't yell at library students on laptops and then call themselves a success story."
Won't reveal identities for fear of 'harrying' by Black Lives Matter
Dartmouth Pride told The Fix that its website "is being read by a good many people, based on analytics," and it expects feedback from the administration and students over the course of this week.
Asked why it wouldn't reveal its members, the group said "these kinds of activists are often known for harrying those who are not in lockstep with their group think."
RELATED: 'Privileged' white student who supports Black Lives Matter 'ashamed' of Dartmouth protesters
It's in dispute whether the protesters intimidated or used physical force against individual library patrons.
While the independent Dartmouth Review has stood by its reporting from "multiple student eyewitnesses" that protesters used "physical shoving and pointed racial insults" against library patrons, the administration said there has been "no complaints of physical violence" stemming from the "political protest" at the library.
The impetus for Dartmouth Pride's manifesto is the response of Inge-Lise Ameer, vice provost for student affairs, to the library protest.
It accused Ameer of "appeasement" for reportedly apologizing to protesters and saying "there's a whole conservative world out there that's not being very nice." Ameer later apologized for insinuating that conservatives were "not nice people."
A week later President Phil Hanlon said the university was investigating the actions of the protesters, and would issue sanctions against anyone who had committed a violation.
Stop 'making a mockery out of real suffering'
Dartmouth Pride's manifesto stands out by outright denying that the campus includes oppressed groups.
"Dartmouth students — whether black or white — are some of the most privileged people on the planet," it reads. "We're going to an Ivy League school."
RELATED: Dartmouth whine fest examines 'intersectionality' to see who's more oppressed, privileged
It accuses the protesters of "being elites who are making a mockery out of real suffering" in order to "self-aggrandize" and "secure additional special treatment within their already elite sphere."
Asked if it had received an official administration response, Dartmouth Pride told The Fix that its website only went online "late Friday night" and the link had been sent to "key admin (incl. the president)."
It claimed: "There will be more feedback this upcoming week." Dartmouth Pride did not respond to another request before publication for more specificity about its Web traffic, political alignment and demographics of its members.
RELATED: Black Lives Matter protest terrorizes Dartmouth; students pushed, shoved, cussed out
RELATED: White student columnist tormented by Black Lives Matter activists for op-ed critical of movement
Like The College Fix on Facebook / Follow us on Twitter
IMAGE: Campus Reform/YouTube