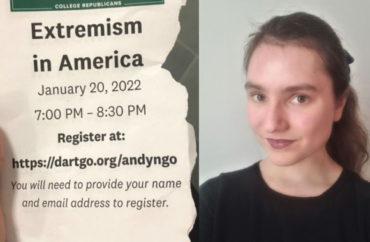 OPINION: Meanwhile, students who threatened our event with violence face no repercussions
Last Thursday, Dartmouth College administrators shut down an event I was co-hosting featuring journalist Andy Ngo, and then turned around and blamed me for it.
Oddly, nowhere in the administrators' list of excuses for effectively canceling the "Extremism in America" panel discussion two hours before it was slated to begin is blame for those who threatened violence against our event.
Instead, campus leaders said that my co-organizer and I had poor communication skills which, coupled with safety concerns, forced them to call it off.
Dartmouth College capitulated to threats of domestic terrorism and have given leftists a blueprint for derailing and canceling future conservative events with zero accountability.
An anonymous student-run group called the Dartmouth Anarchists had coordinated with Northeast Antifa in making threats of violence toward our event. We weren't sure how much of it they actually intended to carry out, but we took the threats seriously.
We increased security with members of Hanover Police, state troopers, and New Hampshire S.W.A.T. on hand. As my co-organizer Dartmouth student Griffin Mackey has pointed out, Moore Hall may have been the safest place in the state of New Hampshire on the evening of January 20.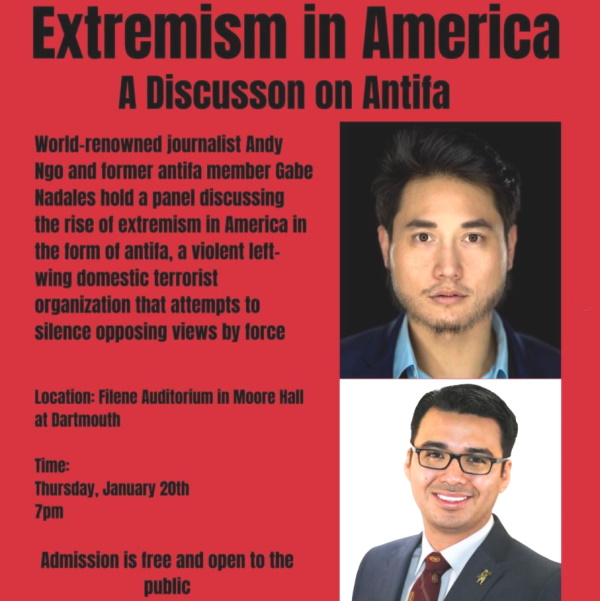 I had personally worked for months to pull the event together, starting last fall. The violent protests we have seen in our nation over the last several years are highly detrimental, and the truth about Antifa and its illegal tactics must be exposed, so the Dartmouth chapters of the College Republicans, Turning Point USA, and Network of Enlightened Women, for which I serve as vice president and president, respectively, worked together to bring Ngo to campus.
But thugs and fascists won the day in Hanover. Police were forced to tell those who had driven to the event to turn around and go home.
Administrators have argued they didn't cancel the event — it was held on Zoom. But what they fail to mention is that all of this was done on such short notice; we only had two laptops on hand, and no way to get the livestream link right away to those who were already driving home.
More recently I've learned our recording of the event did not turn out as well as we hoped, either, so viewing it after the fact will be difficult.
Furthermore, the administration's allegation that we did not communicate well is false. We sent emails to the campus community about event protocols that clearly stated rules regarding backpacks and IDs. We met with Dartmouth administrators a half-dozen times leading up to the event, including having meetings with them the day before and the day of our event.
One of the more frustrating aspects of this whole situation is how the Dartmouth administration has apparently turned a blind eye to those on campus who threatened our event. We gave them screenshots of students making threats on social media, yet there is no accountability.
It's also terribly ironic that an event focused on violent protests was canceled over the threat of violent protests.
At this point I do not trust the administration to not cancel any of our future events.
Moving forward, we may plan to host off-campus events and try to fundraise on our own instead of relying on campus resources.
In the meantime, I would encourage alumni to take a stand by choosing to tell the administration what they think of this incident and refusing further donations to the college.
Even alumni who are not conservative can appreciate the importance of free speech and discontinue donations to Dartmouth until the administration agrees to support our First Amendment rights.
Chloe Ezzo is a junior at Dartmouth College, president of its Network of Enlightened Women chapter, president of its Turning Point USA chapter, and vice president of the Dartmouth College Republicans. 
Like The College Fix on Facebook / Follow us on Twitter