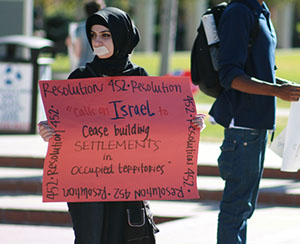 Conservative activist David Horowitz has claimed responsibility for posters that showed up around UCLA on Sunday that compare Students for Justice in Palestine to "Hamas executioners," using the hashtag #JewHaters, Jewish Journal reports.
Horowitz told the Journal:
It is part of a campaign that we are waging to raise awareness of the epidemic of Jew hatred on college campuses, like at UCLA. …

You'll notice that SJP's response is to lie about everything. They're trying to accuse us of the hatred they're guilty of…They claim to just be critics of Israeli policy. Baloney! They chant on the campuses, "From the river to the sea, Palestine will be free." Now what is that about? The river is the Jordan, which is the eastern boundary of Israel. The sea is the Mediterranean, which is the western boundary. Everybody knows what that means. No Jewish state…
On Jews at UCLA who complain he's an outsider making trouble for them:
That's what they used to say about us when we were radicals in the '60s. Come on, an outside organization? I'm a Jew! This affects me. If UCLA wants to support, as they do, financially…if they want to support Jew haters, the people who are actively abetting a second Holocaust in the Middle East, I'm going to oppose that. That I'm not a student now is not going to stop me. That is absurd.
Read the full interview, and further background on the campus response.
Like The College Fix on Facebook / Follow us on Twitter
IMAGE: Scott Denny/Flickr