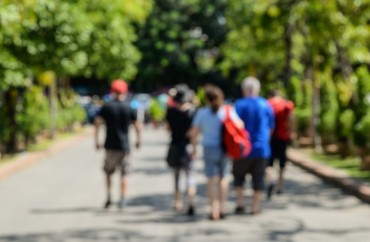 Around the Honors College at Appalachian State, you may hear a different way of labeling first-year college students. While they're commonly referred to as freshmen at most universities, students at the North Carolina-based university often use a different term: "freshmores."
The term was brought to Appalachian State University by Dr. Jefford Vahlbusch, hired in July of last year as dean of the Honors College. Vahlbusch previously held the same post at the University of Wisconsin Eau Claire, where he first started using the term.
In an article in The Appalachian, Vahlbusch said he started using "freshmore" as a "non-sexist way to talk about freshmen." He said he "got tired of listening to female students say freshman" and that it "just didn't seem to be right that we didn't have a non-gender specific way of talking about college students."
Vahlbusch told the campus newspaper the term has since caught on at the honors college.
When discussing why he feels using the term is important, Vahlbusch said it "shows awareness in regards to college students."
"We have women and men as college students, and I think having a non-gender specific way of talking about them, of addressing them, just shows that we're aware of the power of language," Vahlbusch told the campus newspaper.
As far as making it an official term for first-year students, Vahlbusch said "I like change that comes from below, rather than change that comes from above."
Appalachian State refused to provide a response to The College Fix after multiple attempts of contact when asked if there was any push to make the term institutionalized. Vahlbusch did not respond to request for comment from The College Fix.
As far as the term itself, "freshmore" has a different meaning to many. Originally, it has been previously used to describe a student who did not do well enough in their freshman classes to take all of their sophomore classes. So, people combined the terms of "freshman" and "sophomore" to describe a student taking both freshman and sophomore classes.
And the Urban Dictionary defines it as a "student in his/her second year of high school who has failed too many classes to be considered a sophomore."
In his interview with The Appalachian, Vahlbusch said the issue is a concern. He said he was in a high-level administration meeting where a peer apologized for using the word "freshmen" because they didn't have a better word to use.
"I think that we are really all rewarded when we strive for inclusive language and inclusive practice," he said. "I think for this particular word there's a real place for freshmore or a word like it as we become more conscious of being inclusive. I think it's a good thing to think about."
MORE: College groups go 'inclusive' – use 'womxn' in place of 'women'
IMAGE: Shutterstock
Like The College Fix on Facebook / Follow us on Twitter