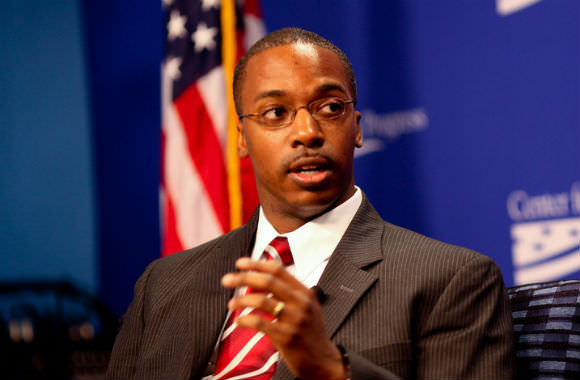 George Washington University stalls, won't explain dean's intentions
Two weeks ago, the leader of a high-ranked international affairs school suggested that students who want to intern in the Trump administration shouldn't ask for his help.
George Washington University has refused to clarify his comments or make him available for an interview since then.
Reuben Brigety, dean of GWU's Elliott School, labeled President Donald Trump a "Nazi sympathizer" in a stinging Foreign Policy essay that called for members of Trump's cabinet to denounce him or resign in protest.
A professor at nearby universities before serving in various State Department roles in the Obama administration, Brigety denounced Trump for having "spontaneously reiterated his support for white supremacist protesters" following the "Unite the Right" rally in Charlottesville that left one counterprotester dead.
Trump's Aug. 15 press conference "left the world slack-jawed in disbelief and forced a stark moral choice upon senior officials in his administration," who would be "forever linked to America's first Nazi-supporting president" if they didn't speak up, Brigety said.
The Foreign Policy essay is directed at top Trump administration officials, including Defense Secretary Jim Mattis, Attorney General Jeff Sessions, national security adviser H.R. McMaster and White House Chief of Staff John Kelly.
But Brigety made clear that he was also appealing to their current and future underlings, including Elliott School students who would need letters of recommendation from their dean or the services of their career advisers who serve under Brigety:
At what point does your duty to country lead you to confront the evil bigotry of the president, rather than trying to find a way to rationalize it so you are free to serve some greater good?

As much as each of these questions apply to you, they apply in equal measure to all of your deputies and subordinates that also occupy political positions of great responsibility in the service of our country.
If they don't condemn Trump's words or resign, officials and their underlings will "have to explain to your personal progeny and our national posterity why you chose to silently serve America's first Nazi-in-chief," Brigety concluded.
GW University's Elliott School of International Affairs Dean, Reuben Brigety, "Donald Trump is a Nazi Sympathizer." https://t.co/fZBGwKyAoF

— David (@DavidinConn) August 23, 2017
The Elliott School, whose stated mission is "to educate the next generation of international leaders," is not a minor institution.
It is physically located a stone's throw from the State Department and "steps from the White House," and Foreign Policy ranked it the eighth-best U.S. undergraduate institution for international relations and seventh-best for master's programs in 2015.
The Elliott School's 2015-2016 annual report, the most recent available, says it has 2,200 undergraduates and 800 graduate students.
Graduates of the Elliott School, like Brigety, have served in many capacities. According to the school's website, they have gone on to work for prominent think tanks such as the Center for Strategic and International Studies, government departments including State and Defense, and intergovernmental organizations such as the World Bank and International Monetary Fund.
Brigety's office did not respond to a College Fix query asking how students can expect to be treated if they ask for assistance – such as a letter of recommendation – in getting an internship or job in the administration, including the White House and State Department.
A staffer named Nancy in the Elliott School's Academic Advising and Student Services told The Fix in a brief phone interview last week that "students should ask their adviser" if they want help getting into the Trump administration.
The academic advising office forwarded another query to GWU media relations, which told The Fix Aug. 23 it was working on a statement to respond to questions prompted by Brigety's essay.
After several subsequent phone calls and emails to get that statement, an unidentified media relations person responded to The Fix in an email Wednesday. That person said the university didn't have comment "at this time."
Before becoming dean of the Elliott School, Brigety was the appointed U.S. representative to the African Union and permanent representative to the UN Economic Commission for Africa.
He served in various State Department roles before that, including deputy assistant secretary of state for refugee policy in Africa, although the refugee bureau's migrant policy varies based on who is in the White House.
Brigety spent a year before that as senior adviser to U.S. Central Command, which monitors and conducts operations in the Middle East. He taught at George Mason University in Virginia and American University's international school before his Obama administration service.
MORE: GWU dean calls Trump 'Nazi-in-Chief'
Like The College Fix on Facebook / Follow us on Twitter
IMAGE: Center for American Progress/Flickr