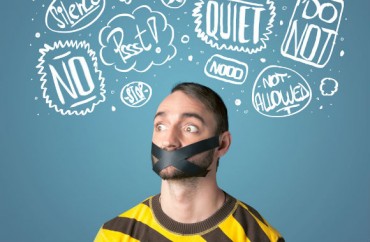 A student at Philadelphia's Central High School became the target of death threats after he penned an op-ed for his school newspaper denouncing the "race justice" demonstrations at the University of Missouri.
In the piece (featured alongside a pro-demonstration article), Michael Moroz referred to Ferguson's Michael Brown as "a delinquent" who was "at worst, justifiably killed, and at best, a thug," and said Mizzou student demands were "nonsensical."
When the article was posted on the paper's Facebook page near the beginning of the school's winter break, the threats began.
The Philadelphia Inquirer reports:
On social media, there were calls to "deal with" Moroz and "shoot" him, and he was decried as a racist. Fearing for his safety, Moroz did not attend school Monday.

"I definitely felt threatened," said Moroz, a Northeast Philadelphia resident and the newspaper's managing editor. "It's hard not to feel threatened."

Student editors pulled Moroz's piece from the newspaper's website when the online commentary began turning ominous toward Moroz and said in a Facebook message that "if an article comes across as insensitive, and the Central community would rather have it taken down … then the article will be taken down."

Later, administrators at Central, one of the city's top schools, backed the students' decision.

"That," Moroz said, "just sets a bad precedent."
RELATED: Student newspaper says 'emotional injury' justifies the squelching of unpopular speech
He believes his story should not have been pulled, even amid threats.

Initially, only Moroz's piece was yanked. Later, the pro-demonstrators article was removed as well.

Timothy McKenna, Central's president — the school's principal also serves as its president — said Tuesday that in hindsight, both pieces should have been removed simultaneously.

He also said he did not believe Moroz's article was censored, because with a bit of maneuvering, it still can be found on the newspaper's website.
McKenna appears to be wrong. While The Centralizer claimed in a Facebook post that both articles' links were still live, they both return "page not found" messages.
Three students who made threats have been disciplined.
Moroz, who's heading to the University of Pennsylvania this fall, says Central HS has little ideological diversity.
He related how its teachers "railed against" former Pennsylvania governor Tom Corbett in class, and "encouraged students to leave class to make signs protesting the governor" on a day the Republican was supposed to visit the school.
"You're in class and you're hearing the same opinion over and over again — the unions are great, Republicans are evil."
The messages of support Moroz got for his article were "all were sent privately," which is "a symbol, he said, of how tough it is to express an opinion other than that held by the majority," the Inquirer reported.
Based on the comments of several students interviewed in the article, his point appears to be valid: One student said Moroz "can have a different viewpoint, but he didn't have to be crass and disrespectful in the way he expressed it. That was unacceptable. I wanted him to be reprimanded."
Another was upset the article was published in the first place — "not because of its view but because of its 'extremely inflammatory language' and its seeming dismissal of the Black Lives Matter movement."
Yet another said she was "disgusted" by the op-ed and added "[s]o many students were upset, and hurt, and felt personally attacked by this article. That should have been addressed. That shouldn't have been swept under the rug."
That first quote, by the way, is from one of the three students who were disciplined. He had posted online that Moroz "should be dealt with."
Like The College Fix on Facebook / Follow us on Twitter
RELATED: D.C. high school's new principal has history of squelching student media
IMAGE: ra2studio/Shutterstock