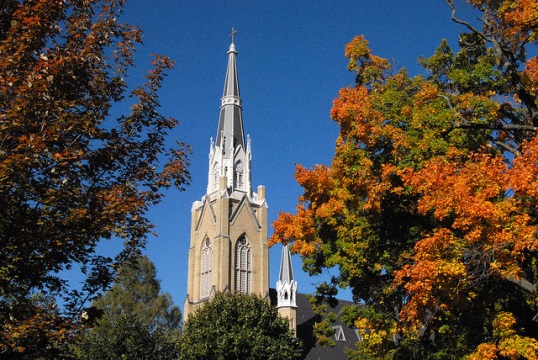 The president of Notre Dame's College Democrats, Adam Newman, recently penned an op-ed in the Catholic university's mainstream campus newspaper defending gay marriage by arguing the Bible is so filled with contradictions one can't use it to cite a religious argument against such unions.
"Anyone who simply interprets the Bible literally will end up with a contradictory set of beliefs and not have as full an understanding of the main message the Bible conveys: God's unending and unquestionable love for his creation (including gay people)," Newman wrote on Sept. 10 in The Observer. "… We should realize that cherry-picking a specific verse out of the Bible to justify a policy position is wrong, especially when it is used to denigrate God's creation."
The editor-in-chief of the independent conservative newspaper on campus, Michael Bradley of The Irish Rover, quickly sent in a rebuttal. The Observer didn't publish it, or at least hasn't yet. So Bradley decided to publish his piece in the Rover instead, arguing Newman's train of thought was "incoherent" and "confused."
Newman seeks to advance the thesis that it is wrong to mine the Bible for isolated proof texts, sans any broader interpretational hermeneutic, in support of one's positions on public policy. I agree. I therefore find it ironic that Newman mines the Bible for isolated proof texts—I suspect he had recourse to Google searches—in order to support his conclusion that biblical mine-proofing is wrong. We can bracket this methodological and logical blunder, though, and pursue his thesis directly.

Let's bracket too for the moment the fact that many Americans who support same-sex marriage buttress their own views by citing, sans any broader hermeneutic, isolated biblical passages about equality, dignity, "God's creation" and "God's love," as Newman does.

As a strictly factual point, Newman is fundamentally wrong about which biblical passages are "most relevant" to contemporary discussions of marriage. The Jews' perspective on marriage—a natural institution rooted in the sexual-reproductive complementarity of man and woman—is expressed firmly and unequivocally in their creation narratives, in which this reality of sexual complementarity is woven into the order of God's creation itself.
CLICK HERE to Like The College Fix on Facebook / TWITTER: @CollegeFix
IMAGE: NDomer73/Flickr