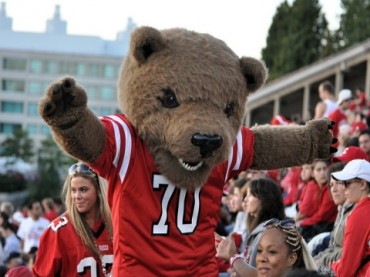 This is a bombshell, and great work by this investigative reporting class (that's still a thing?) at the University of Cincinnati.
Writing in CityBeat Cincinnati, the students uncovered a nearly $22 million "subsidy" from student fees and general-fund money that school officials gave to athletics in 2013, "to cover the difference between revenue and expenses":
The total subsidy amounts to $1,024 out of the pocket of every full-time undergraduate student on UC's main campus. The four-year price tag costs each student more than $4,000. …

The athletic department's four-year hidden tax may very well exceed $4,000 per student. In 2014 the subsidy rose to more than $27 million, a 25-percent increase.

Since 2007, University of Cincinnati trustees and administrators have used more than $127 million in student fees and general fund money to subsidize deficits in the athletic department, according to UC's NCAA Revenue & Expense reports.

Thomas Humes, UC's board chair and a trustee since 2007, says the $127 million sports subsidy is a necessity to keep pace with other programs.
No surprise that Humes describes the subsidy as an "investment." Where else have we heard that term used to justify massive spending with someone else's money?
What's even more scandalous, Cincinnati isn't even the biggest spender in the state on athletics subsidies that come directly out of students' pockets – figures range from $724 a year (University of Toledo) to $1,226 (Miami University).
Ohio State is the only one of the top 8 Football Bowl Subdivision schools to charge students nothing for athletics:
"It's Robin Hood in reverse," says Jeff Smith, a college sports subsidies expert who teaches management at the University of South Carolina Upstate. "These schools are imposing a regressive tax on those students least able to afford it. If I were a student, I would be screaming about this."

Many of these same schools are cutting faculty jobs and slashing academic spending. Between 2005 and 2013, academic spending per full-time undergraduate student at UC, adjusted for inflation, dropped 24 percent, according to the Knight Commission on Intercollegiate Athletics, a national group of current and former college presidents seeking to reform college athletics using research studies and, more recently, online databases.

In other words, over the past decade UC leaders have used student fees and tuition to cover a nearly five-fold increase in the athletic department's annual deficit while cutting academic spending per student by almost 25 percent.
You won't be surprised to learn that Cincinnati President Santa Ono, whose official biography says he's "accessible and responsive to the university's wide range of constituents," declined to comment to the student reporters.
Let's see if the school is dumb enough to retaliate against these students or their journalism professor, as is alleged to have happened at other schools.
Like The College Fix on Facebook / Follow us on Twitter
IMAGE: Mhaithica/Flickr