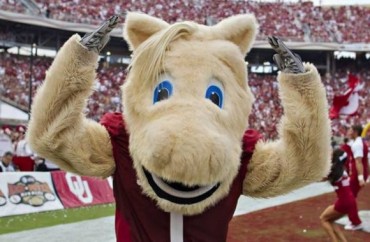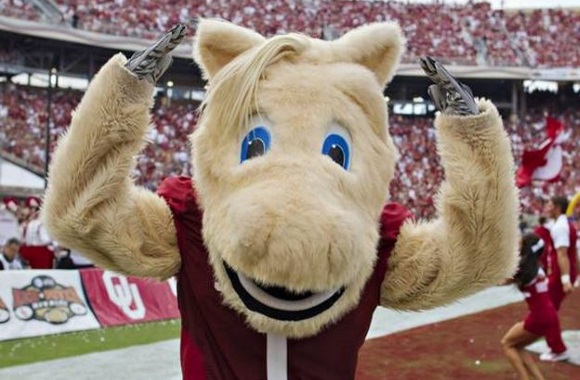 Student protesters: 'Objectives of decolonizing and reindigenizing traditionally colonizing spaces'
A Native American student group at Oklahoma University is demanding campus officials kill off their "Boomer and Sooner" mascot nicknames, saying they're offensive and reminiscent of "cultural genocide" from the state's 1889 Land Rush.
The complaints come as students aim to replace Columbus Day with "Indigenous Peoples' Day." The student government voted Tuesday to approve a non-binding resolution to recognize Oct. 12 – or Columbus Day – as Indigenous Peoples' Day, the Oklahoma Daily reported.
In response to the vote, Indigenize OU – which consists of four OU Native American students who helped craft the resolution and have pushed for the mascot name change – stated "we are simply … interested in sparking what we perceive as important conversations and who share the same objectives of decolonizing and reindigenizing traditionally colonizing spaces."
Indigenize OU has also stated they believe the "Boomer and Sooner" mascots are offensive to Native American students and want them discontinued.
Sooners and Boomers are historical terms referring to those who settled in Oklahoma during the land rush of 1889. Sooners were mostly "deputy marshals, land surveyors, railroad employees, and others who were able to legally enter the territory early to mark out choice pieces of land for themselves or others," according to SoonerSports.com. Boomers, meanwhile, were the rest of the settlers who took advantage of the land rush.
The words Boomer and Sooner are prominently featured in OU's fight song, and the Sooner Schooner, or a covered wagon like ones used by pioneers, is pulled by matching white ponies named Boomer and Sooner, which rides across Owen Field "in a triumphant victory ride after every OU score," SoonerSports.com reports.
OU President David Boren has so far resisted the efforts of Indigenize OU to do away with Boomer and Sooner, saying he believes the words have neither negative connotations nor are harmful to the student body.
"I think the words 'boomer' and 'sooner' in their modern context are no longer tied to the history of the Oklahoma land settlement. They have taken on a meaning of their own, which stands mainly for strong support of our state and university," Boren said in a statement.
According to SoonerSports.com, a "Sooner" is an "energetic individual who travels ahead of the human procession. He [is] prosperous, ambitious, competent, a 'can-do' individual. And Oklahoma was the Sooner State, the land of opportunity, enterprise and economic expansion, very much in the Progressive spirit that engulfed the old South in the 1920s."
Indigenize OU feels differently, however, and its members said on their Facebook page that they were "taken aback" by Boren's statement.
"We think it is dangerous when histories of oppressed and marginalized communities are whitewashed – it is dangerous and frightening to be told that our history doesn't matter," the group wrote. "For many tribal nations in Oklahoma, these words invoke collective historical memories of displacements and cultural genocide."
Ashley McCray, a member of the group, told OU Daily that, "I really feel like when he [Boren] is saying that history doesn't matter, and it takes on a whole new connotation, that's really just a way of whitewashing our history and silencing those of us who say it doesn't matter."
But not all Native Americans agree. A student who identified himself as Native American responded to the Facebook post by saying:
Moreover, President Boren concluded his statement by saying he would not strike the words "boomer" and "sooner" from the fight song or mascot unless Oklahoma's nearly 245,000 alumni approved the change.
Like The College Fix on Facebook / Follow us on Twitter
IMAGE: Facebook screenshot