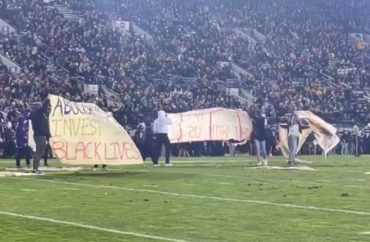 University has not said if it will punish the students
Student activists supporting police defunding took the field on Saturday during the Northwestern University football game against the University of Iowa.
"Nine protesters rushed the field at the end of the first half of Northwestern's 17-12 loss to No. 19 Iowa on Saturday night," Sports Illustrated reported.
The publication said:
The protesters displayed hand-made signs that read "ABOLISH NUPD INVEST IN BLACK LIVES," "STOP FUNDING THE WAR ON PALESTINE," "DIVEST FROM DEATH," and more. NUPD refers to the Northwestern University Police Department.

After several minutes of game delay, an individual dressed in Iowa gear also rushed the field and ran through the signs, bringing some to the ground. The individual used an obscene hand gesture while exiting the field and then stood behind the endzone with his arms raised, encouraging a fan response.
Pro-Palestinian protesters interrupt a Northwestern football game to hold up signs reading "Stop funding the war on Palestine" and "Abolish NUPD. Invest in Black Lives."

because everything has to relate to Palestine. 🙄

— Emily Schrader – אמילי שריידר (@emilykschrader) November 7, 2021

"The protesters were members of multiple student activist groups, including NU Community Not Cops, Students for Justice in Palestine, NU Dissenters, Fossil Free NU and Students Organizing for Labor Rights," The Daily Northwestern reported.
"University spokesperson Jon Yates said no arrests were made. The matter is under investigation by University Police, he added," the campus paper reported on November 6.
The College Fix emailed Yates and spokesperson Jeri Ward on Monday and asked if the university planned to investigate the students under the conduct code and if it would refer the matter for criminal prosecution. They have yet to respond.
The Fix emailed Julie Payne-Kirchmeier, the vice president for student affairs, and asked the same questions but did not receive a response.
The Fix also did not hear back on the same questions from Bruce Lewis, the chief of NUPD, or Eric Chin, the deputy chief of police. The Fix asked what steps the department has taken so far to interview the students.
MORE: Check out the cancel culture database
IMAGE: Jeff Beachum/Twitter
Like The College Fix on Facebook / Follow us on Twitter