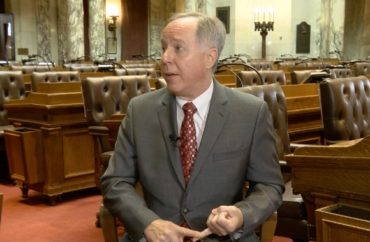 'I am embarrassed to be an alumni' of the University of Wisconsin, Assembly Speaker Robin Vos stated 
Overturning DEI is the "single most important issue" facing the nation, Wisconsin State Assembly Speaker Robin Vos said Saturday at the state Republican Party convention.
Vos "relabeled the DEI acronym 'division, exclusion and indoctrination,'" the Milwaukee Journal Sentinel reported Sunday.
"The overt racism, the overt exclusion, the overt indoctrination is so deep inside the UW System, I am embarrassed to be an alumni," Vos said.
Speaker Robin Vos says he's 'embarrassed' to be a UW System alumnus because of campus diversity programs https://t.co/Rgmu1NZKR8

— Journal Sentinel (@journalsentinel) June 18, 2023
"This is probably to me the single most important issue that we are facing as a people, as a nation and as, really, humanity," the Assembly speaker said.
Vos graduated from the University of Wisconsin-Whitewater in 1991, according to his political bio.
"Speaker Robin Vos was first elected to the Wisconsin State Assembly in 2004 and is currently serving his ninth term as a state representative," according to his bio. "Robin is the 75th Speaker of the Assembly and the longest-serving Speaker in Wisconsin history."
He "currently leads a Republican majority of 64 representatives," his bio states.
At the convention, Vos opposed Wisconsin Democratic Gov. Tony Evers' plans for a $305 million budget expansion of the UW System, seeking a cut of at least $32 million to eliminate DEI efforts, the Sentinel reported.
Vos' denunciation of DEI was just one aspect of Republican opposition to progressive education culture on display at the convention Saturday, according to the paper. Wisconsin Republicans also approved non-binding resolutions demanding that the state ban teaching critical race theory.
"DEI is the new religion to the left," Vos said. "They don't go to church on Sunday, but they have no problem using taxpayer dollars to evangelize on every college campus across the state."
"We have to stop, put our foot down and not allow it to continue."
MORE: Republicans want answers on UW Madison's mandatory white privilege course
IMAGE: WKOW 27 NEWS/YouTube
Like The College Fix on Facebook / Follow us on Twitter