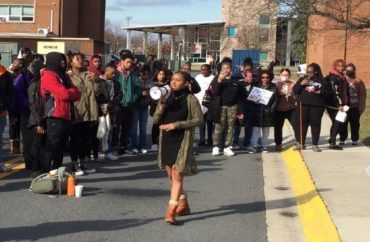 Seven rape cases are 'pending,' according to the campus police log
Delaware State University president Tony Allen introduced a new safety plan at a closed-door meeting Friday in response to students protests throughout January over a perceived lack of safety on campus and a spate of alleged sexual assaults.
Reforms promised by Allen include the implementation of sensitivity training for public safety officers, utilization of body cameras on campus police, and the establishment of a center for safety and well-being on campus, Delaware State News reported Jan. 27.
Allen also announced the creation of a "Safe Space Coalition" that will "assess university safety protocols, campus policies, and response services that deal with sexual assaults, domestic violence, harassment, bullying, mental illness, and health-related matters," the newspaper reported.
Hundreds of Delaware State University students had protested at the university safety office Jan. 17, calling for a more active and student-friendly campus police force in the wake of several unresolved sexual assault cases.
At least seven reported rape cases on the college's "Daily Crime and Fire Log" are marked "pending" as of Jan. 30.
The College Fix emailed the Student Government Association twice in late January to ask whether they were pleased with the proposed changes and whether they would support increased police funding and manpower, but has not received a response.
"On Friday, January 13, students were informed via email of another case of sexual assault on campus, this time in Tubman Laws residential hall," student newspaper The Hornet reported Jan. 24. "This marks the fifth sexual assault case since the start of the 2022-2023 academic school year."
The campus police reported an additional report of sexual assault on Jan. 17.
"A student reported being sexually assaulted by another student" at the University Courtyard Apartments, the Crime and Fire Log stated.
"In response to the frustration surrounding the campus, the student government association (SGA) held a town hall meeting on Tuesday, January 17," The Hornet reported, adding a protest followed in front of the university's public safety building demanding answers and a call to action.
"Th[eir] concerns included issues regarding the general safety of the campus, public safety negligence to students experiencing sexual assault or harassment, and lack of resources available on campus," the student newspaper reported.
Students argued that police respond slowly or not at all and use excessive force when responding, according to WDEL.com.
Over 200 students gathered in front of the public safety building, calling for change within the Delaware State University Police Department.

— Delaware Online (@delawareonline) January 18, 2023
President Allen sent out a message to the community immediately following the protest.
"I spent time with the [Student Government Association] and several of the students involved in the demonstration," Allen stated Jan. 18. "I applaud them all, and I appreciated the opportunity to listen and really hear their concerns directly."
"Any feeling on the part of our students that their University does not see, hear, feel, or validate them or any trauma that they experience is unacceptable and will be addressed."
The Fix also contacted the university to ask for general comment but has not received a response.
MORE: University of Minnesota rebuilds relationship with police two years after George Floyd's death
IMAGE: @DelawareOnline/Twitter
Like The College Fix on Facebook / Follow us on Twitter