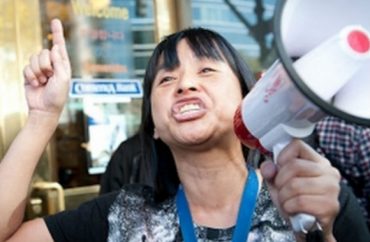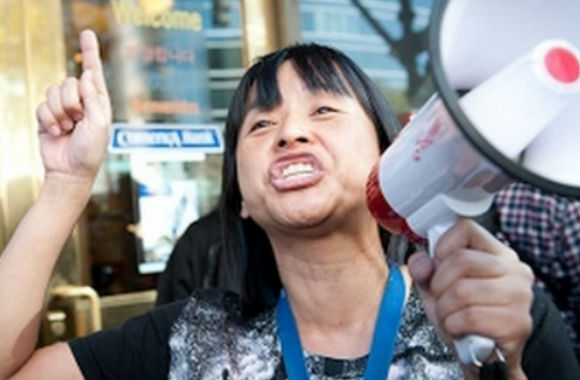 Guess why Yvette Felarca is already suing the school district
There's a price to pay for being the unofficial spokesperson for the so-called black bloc.
Yvette Felarca's job is the target of a petition to the Berkeley Unified School District, following the middle school teacher's gleeful participation in the violent protests that led to the cancellation of provocateur Milo Yiannopoulos's speech at UC-Berkeley.
With more than 5,700 signatures as of Thursday, the petition notes Felarca, the leader of far-left activist group By All Means Necessary, was a headache for the school district before she helped preempt Yiannopoulos's speech:
On June 26, 2016, Yvette Felarca was caught on video assaulting a man at a white nationalist rally in Sacramento. She punched the man in the stomach repeatedly, before throwing him to the ground. Felarca is a 7th and 8th grade Humanities teacher at Martin Luther King Jr. Middle School in Berkeley. Among her responsibilities is teaching the students under her tutelage about the Bill of Rights.

Someone who does not believe in free speech should not teach kids about their constitutional rights.
The petition was created eight months ago but has seen a surge in signatures since Felarca reappeared to join with the black bloc against Yiannopoulos, according to Berkeleyside.
MORE: If LA Times can identify 'black bloc,' why can't UC-Berkeley?
She was on Tucker Carlson's show on Fox News Monday "to reiterate her stance that violent protesters were justified":
The phones, voicemail machines and email inboxes at the Berkeley Unified School District have been flooded with calls about Felarca, said Charles Burress, spokesman for the district. The main office of Martin Luther King Jr. Middle School, where Felarca teaches, has been swamped as well. …

"Every (message) I've seen has been opposed to having her employed by us," said Burress.
It wrote her a "warning letter" after she beat up the white nationalist and put her on paid administrative leave in September, but without explanation Felarca "returned to her classroom six weeks later," according to Berkeleyside.
MORE: 'Stunning achievement' that we shut down Milo with violence, Felarca says
BUSD Board President Ty Alper released a muddled statement Wednesday saying the district can't speak to whether Felarca is being punished:
It is important to emphasize that we firmly support the First Amendment right to free speech. We also strongly condemn the use of violence in confronting speech …
Felarca is actually suing the school district for retroactively docking her 25 days' pay on the basis that she illicitly used "sick and personal days" to "attend political protests." She claims in the suit she had doctor's notes for "some" of those days.
According to Berkeleyside, she'll be in court again March 2. The publication notes that Felarca has been cagey about what she actually did during the Yiannopoulos riots, other than to claim credit for stopping his speech.
Felarca goes back in our coverage to 2011, when she and BAMN supported a bill to give financial aid to illegal immigrants in California.
MORE: Berkeley Republican says pro-Milo students still getting threats
Like The College Fix on Facebook / Follow us on Twitter
IMAGE: Tucker Carlson Tonight/YouTube