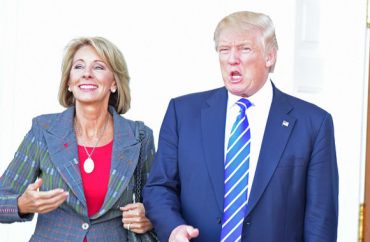 Having connections to the American Civil Liberties Union used to be enough to get you blacklisted from government service.
In the 21st century academy, it's another civil liberties group that stirs fear: the Foundation for Individual Rights in Education.
President-elect Donald Trump's nominee for secretary of education, Betsy DeVos, is being declared unfit to serve not for her best-known cause – K-12 reform and school choice – but because the Michigan billionaire made relatively small donations to FIRE.
Politico reports that the $10,000 DeVos has given to the group are leading critics to question whether she will take campus rape allegations seriously:
DeVos has not spoken publicly about the Education Department's aggressive approach to campus sexual assault, but women's groups and Democrats say her donations to the Foundation for Individual Rights in Education send a troubling signal. FIRE has sued the administration to raise the standard of proof for victims of sexual assault in university administrative hearings contending [the federally mandated preponderance standard] is unfair to the accused.

The donations are "a red flag," said Lisa Maatz, the top policy adviser at the American Association of University Women, which advocates for strict enforcement of Title IX, the federal law that governs sex discrimination, harassment and sexual assault on college campuses. "In the absence of an actual record … I think these kinds of donations take on even greater importance, because we have to rely on her contributions to inform us on particular issues."
Longtime civil-liberties lawyer Jameel Jaffer, formerly of the ACLU and now at Columbia's Knight First Amendment Institute, bemoaned the demonization of FIRE.
Sorry to see this. There may be good reasons to oppose DeVos, but her donations to @TheFIREorg aren't among them. https://t.co/02aqJ2daZz

— Jameel Jaffer (@JameelJaffer) January 10, 2017
Another Twitter user saw the ACLU connection as well.
This thing with DeVos giving to @TheFIREorg is like attacking an @ACLU donor because the ACLU defends Nazis.

— Tony Biasotti (@TonyBiasotti) January 10, 2017
It also got the attention of New York Times columnist Ross Douthat.
Betsy DeVos donated to an important organization that does good work and Democrats think it's terrible:https://t.co/mOjCk6mvRE

— Ross Douthat (@DouthatNYT) January 10, 2017
Democratic Sen. Bob Casey claims it's a "radical view" that students accused of sexual misconduct – especially in alcohol-fueled trysts where memories are hazy, evidence is thin and hurt feelings can translate into retribution via disciplinary channels – should be granted procedural protections they would receive anywhere else in American life.
He and Democratic Sen. Patty Murray wrote to Trump last week asking him to keep the preponderance standard – under which a majority of a hearing panel can decide it's 50.01 percent likely an accused student is responsible – because it's "correct and appropriate."
FIRE Director of Research Samantha Harris is floored.
Honestly, do these ppl truly not see the problem with making it easier to discipline "accused," rather than "guilty," people? pic.twitter.com/IKdCuZDtsm

— Samantha Harris (@SamatFIRE) January 10, 2017
As is the Cato Institute's Walter Olson, who also runs the law blog Overlawyered.
New reason to donate to @TheFIREorg: @AAUW thinks if you've do, you don't belong in the Cabinet. https://t.co/83JSByXnKZ @BetsyDeVos

— Walter Olson (@walterolson) January 10, 2017
Campus sexual-assault alarmists are using the Twitter hashtag #DearBetsy to shame DeVos into continuing to deprive accused students of basic due process and interpret Title IX far beyond its literal words:
The campaign is centered on video narratives from sexual assault survivors and allies telling Betsy DeVos what Title IX has meant to them.
It should be noted, as does Politico, that the contributions from DeVos and her husband went to FIRE in 2012 and 2013, when the campus rape panic had not yet reached a fever pitch:
Defending the rights of those accused of campus sexual assault or harassment is one of the group's top priorities, although it advocates more generally for the individual rights of students and professors. The donations are modest compared to the DeVos' vast political and charitable giving.
A spokesperson for a group defending DeVos said she takes sexual assault "very seriously," and called it wrong to "extrapolate" from her FIRE donations "how she may come down on a hypothetical public policy question."
She has met with a leading critic of the campus rape evidence standard, Republican Sen. James Lankford, "in recent days to discuss the standard, among other issues," according to a Lankford aide.
FIRE itself warned against making its advocacy into a "partisan issue" because of the DeVos donations:
While the national focus in recent years has been on sexual misconduct cases specifically, FIRE has long advocated for due process rights in campus proceedings more generally. As FIRE President and CEO Greg Lukianoff has written: "Due process exists not simply to protect the innocent, but also to accurately identify the guilty. Once too much subjectivity is allowed into the system, guilt or innocence determinations are unduly influenced by less rational factors, like whether or not the administrator in charge likes or dislikes the accused."

The basic protections for which FIRE argues — the right to the active participation of counsel; the right to see the evidence in one's case and to meaningfully question witnesses; and the right to an impartial tribunal, among others — benefit all parties and do not impede the pursuit of justice. Outside of the campus context, nobody would argue that reducing due process protections, including the burden of proof, is necessary to secure a just outcome. …

As the Rape, Abuse & Incest National Network (RAINN) told the White House Task Force to Protect Students from Sexual Assault in 2014, campus judiciaries "offer the worst of both worlds: they lack protections for the accused while often tormenting victims."
FIRE is also fighting a more serious falsehood coming from the advocacy group End Rape on Campus, whose co-founder Sofie Karasek told news site ATTN: that FIRE "has routinely argued that sexual assault statistics are overblown."
CEO Lukianoff is trying to correct the record on what FIRE actually advocates.
Some pretty nasty smears out there. This is what I actually wrote about campus sex assault in my book: https://t.co/12nwqqCsVr #DearBetsy

— Greg Lukianoff (@glukianoff) January 10, 2017
FIRE lawyer Ari Cohn also demanded a source for Karasek's claim.
I invite @SofieRKarasek to provide a source.

FIRE has never said this—because we don't believe it. #DearBetsy https://t.co/lZUuL6OCIa pic.twitter.com/PSE7cvH5cP

— Ari Cohn (@AriCohn) January 10, 2017
Update: @SofieRKarasek clarified her claim with another falsehood.

We have never said the stats are overblown. Citation? @lucytiven @attn pic.twitter.com/nkSRXlLl9c

— Ari Cohn (@AriCohn) January 10, 2017
ATTN: writer Lucy Tiven has yet to answer a tweet by KC Johnson, a professor and chronicler of campus due-process issues, asking her for any source backing Karasek's claim.
@lucytiven Have you been able to verify this purported statement from @TheFIREorg? FIRE can find no record of it. (https://t.co/wcPrqIuRQR) pic.twitter.com/Pz02U0PikU

— KC Johnson (@kcjohnson9) January 10, 2017
Read the Politico and ATTN: stories, as well as FIRE's lengthy defense of its work.
Like The College Fix on Facebook / Follow us on Twitter
IMAGE: a katz/Shutterstock