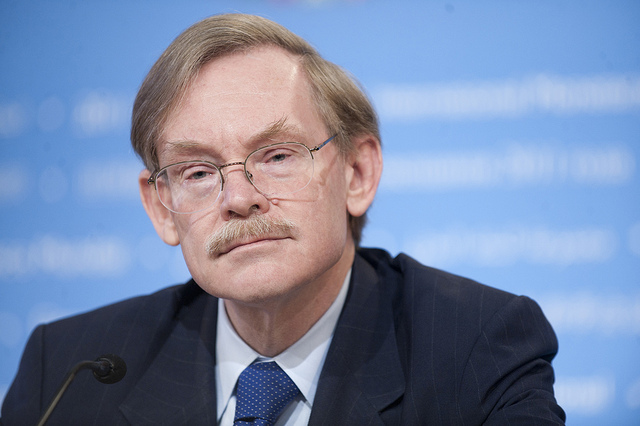 After weeks of intense and sometimes personal attacks on Robert Zoellick and his political reputation by Swarthmore College students, the former president of the World Bank and U.S. trade representative announced he will decline the college's invitation to give one of its commencement addresses.
Zoellick, who earned his bachelor's degree with academic honors from Swarthmore in 1975, said in an email to the college's president that returning to his alma mater for this June's graduation ceremony – in which he was also slated to receive an honorary degree – was more controversial than it was worth.
Students in recent weeks have called him an architect of the Iraq War, claimed he characterizes Arabs as evil, criticized his stance on free trade, and even called him a war criminal.
Moreover, there were rumors that students would disrupt Zoellick's graduation speech. Administrators also did little to quell student unrest over his scheduled appearance, nor did they dispute malicious accusations made against his record.
It was all too much for Zoellick.
"I don't want to disrupt what should be a special day for the graduates, their families, and friends," Zoellick stated. "Nor do I have an interest in participating in an unnecessarily controversial event."
Swarthmore President Rebecca Chopp cited students' protests over Zoellick's slated appearance as the reason for his cancellation.
"In light of the discussions that have been taking place in the student press over the last week or so, in which the selection of Mr. Zoellick has been the subject of debate, he has informed us that he will neither accept the degree nor participate in the ceremony," she said in a campuswide email sent Friday.
In the wake of the news, many students on campus Monday and Tuesday said amongst themselves that they are disappointed a vocal and misguided minority ruined an opportunity to hear Zoellick speak, as his views run contrary to much of the day-to-day campus discourse.
Most of the campus controversy had begun with student complaints over Zoellick's role as an advisor to Bush's 2000 presidential campaign. Some students also shared concern that Zoellick signed a 1998 letter on behalf of the neoconservative Project for a New American Century in favor of "removing Saddam's regime from power."
For that 1998 letter and an article Zoellick wrote titled "A Republican Foreign Policy," which appeared in Foreign Affairs in 2000, some students smeared Zoellick in campus publications as a "war criminal," the "chief architect of the Iraq War," and a man with a "Manichean" view of world power—claims reiterated on Facebook through a student-initiated forum to reconsider Zoellick's honorary degree.
But the outspoken protestors may have been in the minority.
In a March 28 editorial in the Phoenix, Swarthmore's weekly student newspaper, junior Tyler Becker argued that "boiling down Zoellick's impressive public service career to the Iraq War is not only a gross mischaracterization, it's factually wrong."
Sam Sussman, a senior and coeditor of the progressive campus magazine Left of Liberal, also pushed back against Zoellick's detractors.
Sussman said in an email that "after Mr. Zoellick's less researched critics rightfully retreated from their incorrect accusation that he was 'an architect' of the Iraq War, they turned to the more nebulous — and equally erroneous — claim that he 'characterizes Arabs as evil.' "
In an apparent concession that they had exaggerated facts connecting Zoellick to the Iraq War, student activists pivoted to other critiques of Zoellick's record, namely his position as former U.S. trade representative and his support of free trade agreements.
Swarthmore senior Will Lawrence, who emerged as one of Zoellick's most vocal critics last month, cited Zoellick's affiliation with Goldman Sachs and advocacy for free trade in Latin America as reasons to oppose his honorary degree, for example.
Regardless of factual merit, controversy simmered in the campus newspapers for weeks, while the school's administration and faculty failed to come to Zoellick's defense.
Indeed, when students against Zoellick's pending appearance organized a meeting to discuss his record further, campus administrators even sent Alina Wong, Dean of the Sophomore Class and Director of the Intercultural Center, to mediate the conversation.
By the time the meeting took place, the issue seemed to be quieting down, with only about 20 students in attendance. But by then, the campus was firmly polarized on the issue.
A minority of dissenters continued to frame Zolleick as an unacceptable commencement speaker in campus news media. This vocal minority also failed to quell rumors that they might resort to disrupting Zoellick's portion of the graduation ceremony, though others suggest that they were only planning to protest Zoellick's presence before his speech, not during the actual event.
Fix contributor Danielle Charette is a student at Swarthmore College.
CLICK HERE to Like The College Fix on Facebook.
IMAGE: World Bank Photo Collection/Flickr