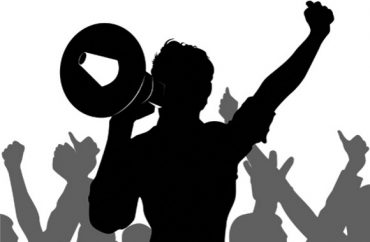 A group of demonstrators consisting of students, parents and community members protested outside of a Massachusetts high school on Monday, demanding the school ban displays of the Confederate flag.
Officials at Easthampton High School had said that a student had the right to wear a sweatshirt with the flag on it; however, the protesters cleverly "created" the necessary disruption required for administrators to act.
And it worked: According to the Daily Hampshire Gazette, school officials banned the flag, if only temporarily pending further review.
The precedent set by the US Supreme Court case Tinker v. Des Moines Independent Community School District requires an actual disturbance — something that "materially and substantially interfere[s]" with the educational process — in order for a school to censor speech/expression. Officials cannot act upon the mere possibility of something happening.
On Monday, a group stood in front of the school building's main entrance before walking to the intersection of Williston Avenue. Many wore a white T-shirt with the hashtag "#nohatehere." Parent Noreen Nardi said the group was there to "create a disruption."

Within the past two months, there have been two demonstrations at the school. In late March, about 200 students walked out of school to the Municipal Building to voice concerns on how the administration handles racism, hate and harassment. March's walkout came the day after an assault in the parking lot of school where the victim had used a racial slur in a social media private message. …

The EHS student handbook states that clothing that "disrupts or substantially interferes with the educational process or with another student's ability to receive an education is prohibited."

The demonstration outside the school's doors lasted about 20 minutes. Students, parents and community members then moved into the school's Cafe Commons for a sit-in, with the adults citing "education disruption" as the reason for their visit.
Law professor Sandy Davidson of the University of Missouri pointed out "[n]ow that there has been a clear disruption to the school's environment and interfered with some students' education," the student's shirt could (legally) be banned, citing Tinker.
Is that all it takes now to quell speech and expression people do not like? Just get some people who agree with you, go cause a disturbance in or near a school, and violá — administrators will prohibit what offended you?
Would school officials ban students from wearing, say, rainbow flag shirts because a sizable number of students, parents, and community members protested that?
MORE: UNC student starts petition to ban Confederate flag in state school district
MORE: Confederate flag attire banned at Pennsylvania HS for causing 'disruption'
Like The College Fix on Facebook / Follow us on Twitter
IMAGE: Shutterstock