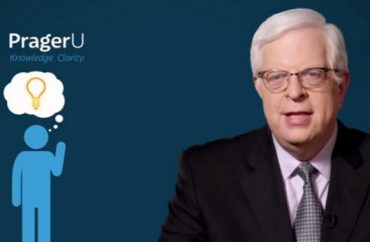 If you appreciate PragerU videos, get ready for PragerU the Movie.
Radio host Dennis Prager and "podcaster-comedian" Adam Carolla are teaming up again to tour college campuses for a documentary titled No Safe Spaces, The Hollywood Reporter reports:
The movie will also explore the phenomenon whereby conservatives who are invited to speak at universities are routinely shouted down or, in some cases, disinvited due to liberal opposition, say the filmmakers. …

The movie will have Prager and Carolla visiting college campuses across the nation this fall, where they'll talk to students and professors and visit their so-called safe spaces. Presuming the students allow for it, the pair will attempt to debate those who advocate for such policies.

"Universities have become a laughingstock," Prager said. "When prestigious institutions of rigorous academic instruction give out coloring books and Play-Doh to 20-year-old students in designated safe-space areas on campus, we are failing them."
Adam Carolla to explore university "safe spaces" in upcoming documentary https://t.co/H6bwghHLEt pic.twitter.com/5xn1fDWdYA

— Hollywood Reporter (@THR) November 30, 2016
Madison McQueen Films is making its first stab at a full-length feature and seeking a theatrical release. It's best known for "lighthearted commercials" for major brands, and has also made ads for conservative candidates including Sen. Ted Cruz, the Reporter says.
Like The College Fix on Facebook / Follow us on Twitter