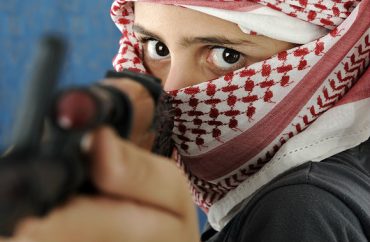 UPDATED
'Hostile environment' under Title VI
The University of Tennessee-Knoxville (UTK) has tried to play down years of incendiary comments by members and leaders of campus Muslim organizations that were recently brought to light, citing their right to free expression.
But it may have to respond more forcefully if a Jewish civil rights group, led by a former civil rights chief at the Department of Education, follows through on its suggestion that UTK's federal funding is at risk for tacitly enabling a "hostile environment" against Jewish students.
UTK "should look upon the situation as a teachable moment and … act as educators to remind their community about their shared values," Kenneth Marcus, president of the Louis D. Brandeis Center for Human Rights Under Law, told The College Fix in an email Monday.
"[W]e are litigators," and though a lawsuit isn't the group's first choice of action, it's "always a possibility" should the university not take steps to quell anti-Semitism on campus, Marcus said.
Here is another recent example of neo-Nazi Jew-spotting from the Daily Stormer comments. #TheNaziBeastIsBack pic.twitter.com/VIpKpXwDT3

— (((Kenneth L. Marcus (@Klmarcus) August 1, 2016
'Within their constitutional rights'
Canary Mission, a secretive watchdog group that compiles dossiers on students and academics it accuses of anti-Semitism, claimed in two releases earlier this month that it found dozens of problematic social media posts by current and former members of Students for Justice in Palestine (SJP) and the Muslim Students Association (MSA) at UTK.
Some of those posts incited or personally threatened violence, it has claimed.
In response to the administration's subsequent denials that the campus is infested with rampant anti-Semitism, Canary Mission and Jewish campus groups doubled down, demanding stronger denunciations of the "cesspool" created by the Muslim student groups.
Canary Mission told The Algemeiner Aug. 4 it found a "disturbing trend" of anti-Semitic behavior reflected in social media posts by SJP and MSA members, naming six in particular.
Happening right now on Ped Walkway #IsraeliApartheidWeek pic.twitter.com/jCo2z8iJ14

— SJP at UTK (@SJPUTK) March 2, 2016
The administration initially responded that the watchdog group, which declines to identify its membership, had overstated campus hostilities toward Jewish students.
It told WATE Aug. 9 that the administration "does not condone" the alleged anti-Semitic statements – seven posts over five years – but believed that the current and former students "were within their constitutional rights to post their personal viewpoints," and they were not "made on behalf of any of our student organizations."
The administration added that the campus chapter of Hillel, a Jewish student organization, and SJP both believe the report "far exaggerates the climate on our campus." The campus president of Hillel has not responded to Fix inquiries.
UTK's denial of a hostile atmosphere for campus Jews spurred a riposte from Canary Mission, which told The Algemeiner that it had actually identified "97 highly racist, bigoted, antisemitic or threatening posts" on social media originating from 21 people associated with MSA and SJP on campus. "You can be sure that there are more we did not find," it added.
Canary Mission broke down social media posts it deemed offending, with more than half simply anti-Semitic or consisting of praise for Adolf Hitler. Other offenses included inciting and threatening violence, racism, homophobia and endorsing terrorism and terrorist organizations.
Allusions to the 'Knife Intifada' – and wanting to punch someone
Despite the administration's earlier claim that its university-affiliated groups did not share anti-Semitic messages in an official capacity, at least one posted flagged by Canary Mission – a graphic comparing Jews to Nazis – was retweeted by UTK SJP.
Zionism Is Terrorism#Palestine #Gazapic.twitter.com/9cPWlIHNaf via @WG_Burton

— Voice from Palestine (@Palaestina) January 16, 2015
Last October, UTK SJP Vice President Fatima Itmaizah switched her Facebook profile picture to a graphic apparently advocating a violent solution to the existence of Jewish people in the Holy Land.
In an email to The Fix Tuesday, Canary Mission said it viewed Itmaizah's post as "inciting violence" because the bloody artwork referred to the Palestinian "Knife Intifada" against Israelis that began the month before.
"The attacks were sparked and fueled by religious incitement and the libel that Israel intended to desecrate the Al Aqsa Mosque in Jerusalem," Canary Mission said. "The solution spread by Palestinian media was to stab Israeli Jews."
Another post alleged to incite violence came from Summer Award on June 4 on Facebook, showing a graphic "of the Dome of the Rock and the Al Aqsa Mosque in Jerusalem featuring five hands that represented different forms of so-called Palestinian 'resistance' — including a knife, a rock, pen and pencil and BDS," Canary Mission told The Fix.
The graphic was accompanied by a poem whose lines include: "We will scream out the names of the martyrs and paint with their blood the proof of our claims…Do you hear our war cry, in the spaces between our heartbeats? Do you see our weapons?"
The posts threatening personal violence, in the view of Canary Mission, were closer to the realm of a bar fight.
A November 2012 tweet by SJP and MSA member Jenine Omari read: "If you talk to me about being pro-Israel I may punch you in the face. That's the one thing I cannot control my temper on."
Mohamed Ali, a member of SJP and MSA, tweeted April 7, 2015: "I feel so incredibly irritable right now. No idea why…Just feel like kicking a Zionist tbh [to be honest]."
Other flagged posts were just crude. One from April by alleged UTK SJP member Ameen Abdel-Khalek derided people for putting "faggot rights" above those of Middle Easterners.
If only people here cared as much for children dying in Syria Palestine Iraq instead of fucking faggot rights maybe wed get somwhere in life

— AAK47 (@AmeenAK7) April 19, 2016
Before Canary Mission's second release claiming it found 97 anti-Semitic posts by 21 people – a trove it has apparently only shared with The Algemeiner – national student Jewish groups told The Algemeiner they weren't satisfied with the administration's response.
"What UTK should have said was this type of speech is heinous and despicable and call it out as antisemitism, plain and simple," said Tammi Rossman-Benjamin, co-founder of the AMCHA Initiative.
UTK must "vociferously condemn and repudiate any and all antisemitic statements and activities by past and present members of the campus community," said Aron Hier, director of the Simon Wiesenthal Center's campus outreach arm.
'Legal obligation as a recipient of federal funds'
The Brandeis Center upped the ante after UTK's response to criticism from Canary Mission and Jewish groups.
In a letter Thursday to Chancellor Jimmy Cheek, Marcus and the center's senior attorneys urged the university to consider the flagged posts as racial harassment under Title VI.
The Brandeis Center @Klmarcus Urges U #Tennessee to Condemn Anti-Semitic Social Media Posts https://t.co/8QQRN3d02k pic.twitter.com/z8XKuLSP4e

— Canary Mission (@canarymission) August 17, 2016
"Allowing such statements by UTK students, without strong condemnation from the University administration, will signal that UTK takes a disparaging view of Jewish students and students of Israeli national origin," the letter read. "Such messages are incompatible with UTK's values – and federal civil rights law."
"[C]ombating campus anti-Semitism is not only the right thing to do," Marcus told The Fix. "It is also the university's legal obligation as a recipient of federal funds." 
The letter to Cheek cites a 2004 "Dear Colleague" letter authored by Marcus when he was assistant secretary of civil rights at the Department of Education, advising educators that Title VI applied to cases of discrimination on the basis of Jewish ethnicity or ancestry. (Regulatory guidance does not carry the force of law.)
Marcus said he wasn't advocating that UTK censor its students: "If constitutionally protected speech is involved, the university should be careful not to punish or threaten the speakers."
The Fix's calls to UTK's media relations team on Friday and Monday were not returned.
UPDATE: Because of an editing error, part of a quote by Brandeis Center President Kenneth Marcus ("It is also the university's legal obligation as a recipient of federal funds") was cut off in the original article. The full quote has been restored.
Like The College Fix on Facebook / Follow us on Twitter
IMAGE: ZouZou/Shutterstock