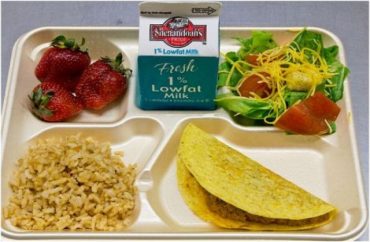 At the beginning of last school year, the Denver Public Schools ceased the practice of so-called "lunch shaming" — that is, if students had any unpaid debt in their school lunch account, they would be restricted to a "basic" meal such as a cheese or PB&J (that's peanut butter and jelly — which in some quarters is considered "racist") sandwich.
Students would now be guaranteed a hot meal … regardless of their outstanding debt.
A year later the bill has now come due … and surprise!! According to National Review unpaid lunch bills "exploded" from just under $14,000 the previous year to a whopping $356,000 — a 25-fold increase.
Put another way, this equals roughly 900 unpaid lunches every day in the Denver district.
The report notes "to be fair, much of the debt is from families that are not expected to pay anyway." However, the guarantee of everyone getting a free lunch "weakens the incentive for qualifying families to bother filling out the paperwork to enroll in the free- and reduced-price meal program" — paperwork which brings in federal monies.
Even with that, Denver estimates that approximately two-thirds of the total debt was due to families who don't qualify for free or reduced lunches.
DPS officials struggled to make sense of this phenomenon, lamenting that it was "impossible to determine" how many families were "struggl[ing] financially" and "how many can afford to pay for school lunches but choose not to." Even after weekly robocalls to delinquent parents, principal outreach to families, and letters sent home with students, the district appeared disappointed to learn that, when confronted with a payment-optional policy, so many families opted not to pay.

Now, school-lunch programs are especially tricky, because no one wants to see children go hungry on account of their parents' financial circumstances. But unintended consequences don't vanish because they're incurred in a good cause. Worse, those consequences tend to erode the very trust and goodwill that make for responsible school communities.

If you're paying a couple hundred dollars a year for your child's lunch and your neighbor stops paying with no consequence, sooner or later you're likely to overhear something about it at a soccer game or PTA function. And if your neighbor keeps getting away with it, you're going to eventually start feeling like a sucker. Pretty soon, in fact, you may decide to stop paying, too.
Chalkbeat notes that Denver got a little financial relief ($41,000) by "quietly" introducing snacks like Doritos and Rice Krispies Treats at their elementary school cafeterias last winter.
Theresa Peña, regional coordinator for outreach and engagement in Denver's nutrition services department, said district students with outstanding lunch debt previously had gotten only a cheese sandwich or graham crackers and milk. She was in favor of scrapping this practice; however, she acknowledges the district "didn't expect" the resulting debt … which at one point was projected to reach $500,000.
MORE: Wyoming schools ditch federal school lunch guidelines
MORE: Cafeteria manager canned for giving lunches to kids with no cash
IMAGE: DC Central Kitchen/Flickr.com
Like The College Fix on Facebook / Follow us on Twitter