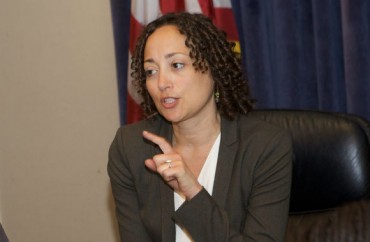 If the House Education Committee wanted advice on topics to bring up with acting Education Secretary John King at its Wednesday hearing on the department's "policies and priorities," it got a targeted list from a former Ed lawyer.
Hans Bader, who served in the Office for Civil Rights, wrote a blistering analysis of a letter sent by that office's chief to Sen. James Lankford, R-Okla., who heads the Regulatory Affairs Subcommittee and has asked what authority OCR has to issue substantive new regulations in everything but name.
OCR's Catherine Lhamon basically told Lankford that her office didn't need to go through a notice-and-comment proceeding before issuing its controversial "Dear Colleague" letters because they only purported to explain current law, not enforce new regulations.
Bader said Lhamon seems to severely misunderstand the obligations of colleges related to themselves versus their students:
In response, OCR simply repeated the same question-begging rationalization it gave in that [2011 Dear Colleague] letter, and added nothing to it, nor did it address the criticisms of its letter made by many lawyers and law professors. Instead, it simply assumed once again that since an institution's actions are judged by a preponderance-of-evidence standard in civil litigation (as no one denies, and as Supreme Court precedent makes clear), that same burden of proof must be applied by a college to its students in internal college disciplinary proceedings that are not taking place in court.
A former @EDcivilrights attorney explains why OCR's response to Senator Lankford is unsatisfactory and evasive. https://t.co/D1zgSBDv3R

— FIRE (@TheFIREorg) February 22, 2016
Bader analyzes court precedents that carefully delineate between the actions of an employer and an employee – whose relationship is more intertwined than students and colleges – for purposes of assigning fault in sexual-harassment disputes:
In all of these cases, lawsuits were dismissed because no reasonably jury could find by a preponderance of the evidence that the employer's actions were not "reasonably calculated" to prevent further harassment. That is true regardless of the fact that (for purposes of deciding the case) the courts assumed that, in fact, the plaintiff had actually been harassed by the accused employees.
Precedent also maintains that "reasonably calculated" actions to prevent harassment do not require employers to junk the due-process rights of accused employees, he said. And the department itself has admitted that harassment does not become "unlawful" unless a preponderance of evidence shows that a school "failing to remedy it once the school has notice" of harassment, Bader added:
So even if harassment has occurred—whether by a preponderance, or, indeed, an absolute certainty—does not necessarily determine whether an institution is liable, so why the institution should have to use a preponderance standard remains unclear.
RELATED: Department of Education official bizarrely claims it's not threatening colleges in rape disputes
h/t Foundation for Individual Rights in Education
Like The College Fix on Facebook / Follow us on Twitter
IMAGE: US Department of Education/Flickr