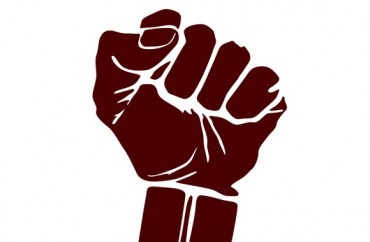 The DePaul University Black Leadership Coalition (DPUBLC) has issued a "reaction" statement concerning the May 24 appearance of Milo Yiannopoulos at the school.
The five-page missive sent to The DePaulia rips President Dennis Holtschneider's handling of the situation, especially his refusal to cancel the event, citing (among other things) an excerpt from a Change.org petition:
"[The administration] has taken a stance that is contrary to the intrinsic and fundamental values of what it means to be a Vincentian. They are allowing the perpetuation of both hate speech and systemic oppression on campus, and this is an unpardonable action for an institution which claims to stand for and with members of all communities within the human family."
The group goes on to note that "eight days of deafening silence" followed Holtschneider's criticism of those who disrupted the event, which it says had a "chilling and alienating effect on the community of African descent."
Concluding that the president's "failure to effectively interpret likely events exposed faculty, staff, and students of African descent, as well as members of other marginalized groups, to threats of physical harm, animus, and hostility," DPUBLC then puts forth eight "expectations" to "resolve longstanding dissatisfaction with campus racial climate":
MORE: DePaul president grovels for mildly criticizing their thuggery toward Milo
1. Creating a structure that allows credible representative voices to act as a conduit between the community of African descent and the President's office.
2. Dismantling the PDC.
3. Creation of a V.P. for Academic Diversity and Inclusion. This position would be staffed by a tenured faculty member to focus on such issues within Academic Affairs. The proposed V.P. would work with senior officers including OIDE and College deans to formulate strategic plans to ensure prominent emphasis and follow-through on institutional diversity goals and objectives. Such a person would coordinate the work of the diversity advocates at the college level (see #4). In addition, this person will be responsible for obtaining information on how various committees, offices, and officers of the University (the CoC, the Deans of each college, the Provost, and the President) are meeting diversity goals, and issuing regular reports on the status in shared governance of women, faculty of color, and other traditionally underrepresented constituencies.
4. Administrative positions (Diversity Advocates), staffed by tenured faculty members, at each college whose primary responsibility will be to further diversity efforts at the college level. Although encouraged, such a position, depending on the college, would not necessarily be filled at an associate dean level. However, it will be necessary to ensure that the authority of the position is commensurate with its responsibilities. It is also important that persons chosen to fill this position are chosen in collaboration with faculty of color and women in the college.
5. Modification of enrollment management strategies and college specific criteria and practices, in order to increase the number of undergraduate, graduate, and professional students of African descent.
6. An African American Center for students, faculty, and staff of African descent.
7. A defined role for affinity groups representing diverse constituencies when the university makes a major decision such as the hiring of a Provost or Dean.
8. Bi-annual town hall meetings between members of the Board of Trustees and DPUBLC.
MORE: DePaul protects protesters who crash Milo event, not crowd that came to see him
Holtschneider already has caved to a degree. As The College Fix reported last Tuesday, he suggested "he would change the 'very decentralized' process by which students invite speakers to address their own groups."
Read the full DePaulia article.
MORE: DePaul pres. applies moral equivalence to supporters and protesters of Milo event
Like The College Fix on Facebook / Follow us on Twitter
IMAGE: Shutterstock