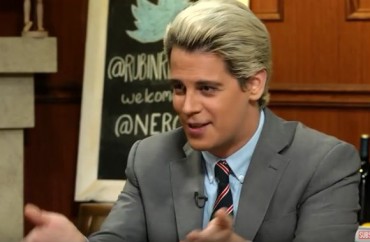 University shows 'double standard' toward conservatives, organizer claims
Rather than try to block anti-feminist Twitter troll Milo Yiannopoulos from speaking on campus next week, DePaul University in Chicago is making the event more expensive and shorter.
The DePaul College Republicans accused the administration of setting a double standard for events featuring conservative viewpoints, though they were able to negotiate back some of the conditions they originally secured.
In emails obtained exclusively by The College Fix, Student Center Director Joe Mroczkowski cut the speaking time for Yiannopoulos to 15-20 minutes from the original 60-90 minutes followed by question-and-answer time.
Mroczkowski also took back one of two adjoining rooms in the Lincoln Park Student Center the CRs had originally booked, whose combined capacity is 550. The remaining room holds 250 people.
RELATED: Trump chalking by College Republicans is a 'hate crime,' black students claim
After the CRs protested, the administration agreed in a closed-door meeting Wednesday to restore both 120A and 120B for the event, CRs President Nicole Been told The Fix.
Though the CRs have only raised $1,170 of a $3,000 goal for bringing Yiannopoulos, the chapter told supporters on GoFundMe earlier this month that the event was a go because of their "generosity." Free-market student organization Turning Point USA became a cosponsor and it will record the event, according to the event's Facebook page.
RELATED: Conservative and libertarian messages require high 'security fees' on campus
The nation's largest Catholic university also demanded the CRs pay for 12 more security guards than they had originally agreed to, costing an extra $1,440, organizer Brendan Newell told The Fix on Tuesday. That would have meant 20 security guards total. (DePaul's event security policy is supposed to determine security needs according to a "1:50-75 person count.")
That extra security demand got knocked down to eight in the closed-door meeting after the CRs protested. The chapter still has to raise another $840 by Saturday to pay for that mandated security.
Other groups are not 'jumping through nearly as many hoops'
In a May 13 email obtained by The Fix, CRs Vice Chair Jorin Burkhart disputed some of the changes formalized by Mroczkowski in a "planning meeting" the day before.
RELATED: Blood paint and vandalism greet anti-feminist troll Milo Yiannopoulos at Rutgers
"I am very confused as to why you have now decided that we can only use half the space" originally booked for the event, and why Yiannopoulos's speaking time was so severely cut, Burkhart wrote. "This seems like a clear attempt to shorten–and therefore diminish the value of–the event."
Burkhart said the school was trying to put the CRs on the hook legally for damage that might be caused by protesters. A previous Yiannopoulos event at Rutgers University featured protesters pouring red paint on themselves in the lecture hall.
All these conditions make the CRs wonder "if there is a double standard" applied to conservatives who want to host events, Burkhart wrote.
"While we (conservatives) are always required to have security, plan for our events being 'shut down,' etc., other groups are able to hold events without jumping through nearly as many hoops," Burkhart said. He cited a hassle-free College Democrats event scheduled for the same day.
RELATED: Anti-feminist crusader kicks off U.S. tour at Rutgers to bring 'intellectually engaging speech'
The CRs started fundraising for the event after black student activists at DePaul complained that pro-Donald Trump chalk messages amounted to a "hate crime."
The response to the chalking proves that students need a "wake up call," the CRs wrote, promising Yiannopoulos would help "Make DePaul Great Again!"
Protesters desperately need 'Milk and Cookies'
The self-proclaimed "greatest supervillain" of the Internet and "dangerous faggot," Yiannopoulos frequently provokes strong reactions among students who could be considered social justice warriors. The openly gay man has repeatedly said that "feminism is cancer."
In one viral video from Yiannopoulos's appearance with other anti-feminist firebrands at the University of Massachusetts-Amherst, a protester dubbed "triggly puff" repeatedly flailed her arms while shouting at the stage.
RELATED: Public university demanded conservative students pay $621 in security fees for Ben Shapiro talk
A petition asking DePaul President Dennis Holtschneider to "stop hate speech" on campus by blocking Yiannopoulos – the president has already declined to do so – has more than 400 signatures.
"Yiannopoulos continuously speaks out in ways that are racist, sexist, homophobic, transphobic, anti-feminist, and Islamaphobic [sic]," it reads. The "top-rated" comments on the petition, however, all appear to be from critics of the petition.
RELATED: UMich students mocked, censored ahead of hosting anti-feminist Milo Yiannopoulos on campus
Mocking protesters seems to be the point of another petition asking Holtschneider to "Provide Offended DePaul University Students with Pacifiers and/or Milk and Cookies."
A protest is also being promoted for the Yiannopoulos visit, titled "Rally – Don't feed the trolls" on its Facebook event page. It pledges not to "protest through infringement" – presumably meaning no interruptions of Yiannopoulos's speech.
One would-be participant, Ryan Motykowski, suggested that protesters "should link arms and deny access to the student center" where Yiannopoulos is speaking, to show that "we will not stand for this hate on our campus." (Such a blockade happened at California State University-Los Angeles when conservative speaker Ben Shapiro spoke at the school.)
Organizer Thomas Rietz replied that they did "not want to give more attention to Milo" by interrupting his speech, but would instead "give more attention to why hate speech is not funny."
RELATED: Emory University snowflakes 'in pain' after pro-Trump graffiti appears on campus
RELATED: Trump Scare spreads from Emory to University of Kansas as new chalkings appear on campus
Like The College Fix on Facebook / Follow us on Twitter
IMAGE: Rubin Report/YouTube, DePaul College Republicans/Facebook