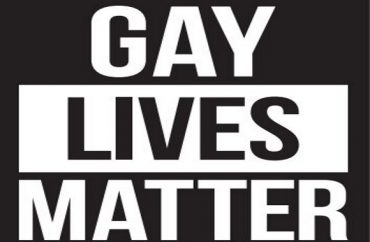 DePaul University has prohibited the campus group Turning Point USA from displaying posters with the slogan "Gay Lives Matter" to advertise a presentation Wednesday by a gay reporter on radical Islam's discrimination against the LGBTQ community.
The decision to reject the posters was made as some students at the school protest the event, titled "Dictatorships and Radical Islam: The Enemies of Gay Rights" and to be given by journalist and foreign correspondent James Kirchick.
Kirchick has worked for numerous publications, foreign and domestic, and is considered a leading voice on American gay politics and international gay rights.
But DePaul Students for Justice in Palestine has indicated on Facebook that its members intend to protest the event. Students leading the charge against his talk appear to have left out any mention of the fact that Kirchick is gay as they sound the alarm on social media.
"Here's the call for protests of my talk tonight at @DePaulU "Dictatorships and Radical Islam: Enemies of LGBTQ Rights." Notice missing word?" Kirckich tweeted out early Wednesday.
Here's the call for protests of my talk tonight at @DePaulU "Dictatorships and Radical Islam: Enemies of LGBTQ Rights." Notice missing word? pic.twitter.com/zgesx9zSuJ

— Jamie Kirchick (@jkirchick) May 10, 2017
He cites a Facebook post from a DePaul student affiliated with SJP who wrote that "Turning point DePaul (check out that horror below, is bringing James Kirchick, a white, Zionist, neoliberal journalist, to speak on sh*t he knows nothing about."
"We will be turning up to counter," the student continued, "not in our f***ing name will you pretend to define our safety, and where danger comes from. Not in our f***ing name will you continue to demonize Islam and Muslims and ignore the radical Christian right."
The talk is slated for 5:30 p.m. May 10.
As for the "Gay Lives Matter" posters, Amy Mynaugh, director of the Office of Student Involvement at the Catholic university, denied them on the grounds that "using the same look/brand as BLM [Black Lives Matter] pits two marginalized groups against each other," according to an email she sent to Turning Point USA that was obtained by The College Fix.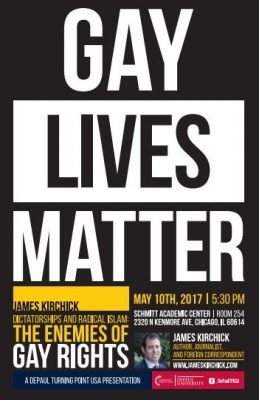 "It doesn't appear that Turning Point has any connection to the Black Lives Matter movement and this seems to simply be co-opting another movement's approach," she added.
Turning Point USA's DePaul chapter had intended to use the posters to advertise the speech, a spokesman for the group told The College Fix. DePaul TPUSA president Jason Plotzke said via email that the poster effectively advertises the event and highlights its purpose.
"Frankly it makes no sense to have it not approved," Plotzke said. "The statement is very simple and you could not market such an event any better and eye catching. When people see that statement, they will either agree or disagree, but the point is getting people to see the message, and we firmly believe that it would have been effective."
Plotzke also disagrees with Mynaugh's reasoning for denying the poster.
"We do not see how the branding of Black Lives Matter is exclusive from all other lives and we cannot make a similar statement in a different movement," he said. "Sure, it is related and based off the BLM slogan, but with no intent to undermine the movement. We are not even using the poster to push an entire movement, but rather a specific event. We, as students in an academic setting, should be allowed to market our events as we see fit."
Matt Lamb, director of campus integrity at TPUSA, also expressed his dissatisfaction with DePaul's decision.
"This is a disappointing decision by the university to prohibit our poster," Lamb told The College Fix via email. "The event by our DePaul chapter is calling attention to the harms that big government, authoritarian regimes pose to LGBT citizen's most basic human rights."
Last fall, the university also refused to allow the DePaul College Republicans from posting "Unborn Lives Matter" posters as well. Lamb said he was aware the "Gay Lives Matter" posters might also be rejected by campus leaders, but that "the school questioned why we were using the phrase when our event is clearly about the abuse towards LGBT people."
Meanwhile, Students for Justice in Palestine distributed posters earlier this week, claiming that they "say NO to Turning Point's nationalist agenda" and that "queer liberation is always anti-racist and anti-imperialist."
DePaul university declined The Fix's request for comment about the posters or protest.
MORE: Students protest gay conservative speaker as he defends free speech at Portland State
MORE: Catholic university bans 'Unborn Lives Matter' posters
Like The College Fix on Facebook / Follow us on Twitter