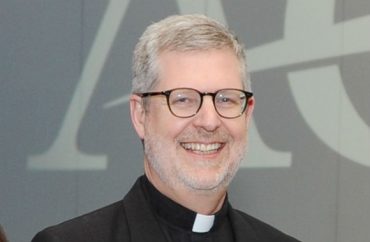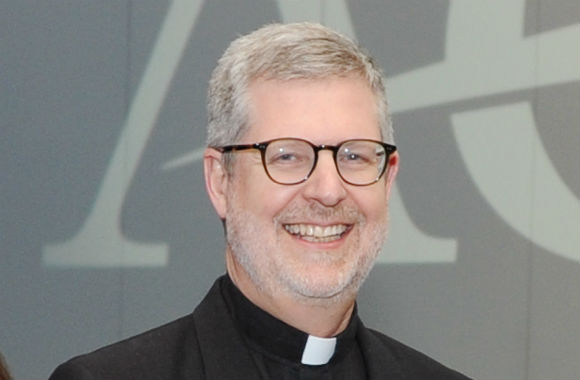 DePaul University President Dennis Holtschneider says he is "ashamed" that a protester at last night's riotous Milo Yiannopoulos event took the microphone from the event moderator "and wave[d] it in the face of" Yiannopoulos.
His apologies don't get much deeper than that.
In a mostly non-apology apology for the stunning inaction of security and Chicago police who let hecklers take over the College Republicans' event featuring the anti-feminist firebrand, Holtschneider issued a deep-dish pizza layered with moral equivalence.
BREAKING: @DePaulU President apologises to College Republicans, is "ashamed" by protestors pic.twitter.com/lb4sbmLQ7Z

— Milo Yiannopoulos ✘ (@Nero) May 25, 2016
The president explained he's in France explaining the Catholic university's Vincentian values, and went on to disparage Yiannopoulos's views and methods, calling him a "self-serving provocateur":
This is unworthy of university discourse … There will always be speakers who exploit the differences within our human community to their own benefit, blissfully unconcerned with the damage they leave behind. [Like the Black Lives Matter protesters who crashed the event and threatened speakers and students even after they left the room?]
Holtschneider said he has invited both the College Republicans and the thugs who attacked them and their speaker, as security paid for by the CRs looked on, to discuss
how future events should be staffed so that they proceed without interruption; how protests are to be more effectively assisted and enabled [!] …
Despite the protesters marching on stage with a whistled call to arms as the CRs and Yiannopoulos remained still, Holtschneider said he was
alarmed when I watched individual students on both sides intentionally provoking the others with inflammatory language …
Like President George W. Bush telling FEMA Chief Michael D. Brown he did a "heck of a job" during Hurricane Katrina, President Holtschneider gave thumbs-up to the beefed-up security detail that DePaul forced the CRs to pay for and which did nothing to protect them.
Student Affairs, Public Safety and Chicago police, among others,
were thrust into an unexpected and challenging situation that we must examine for hard learned lessons. I am grateful that the situation was calmed and dispersed [because Yiannopoulos left in the face of escalating threats to himself and his fans] without serious injury to anyone's person.
After a message full of non-apology, Holtschneider gives a worthless apology to the CRs who spent thousands on an event that the university did the bare minimum from turning into a Ferguson riot.
They deserved an opportunity to hear their speaker uninterrupted, and were denied it.
Ya think?
The CRs released a fiery statement hours after thugs ruined their event.
DePaul security's response to the thuggery was utterly shameful. We spent thousands of dollars and countless hours to get the proper security and put this event on, but when security was actually needed, they did nothing.

What is the point of having security if they won't do anything when they are CLEARLY needed? DePaul administration and security's response just shows the liberal bias that so obviously pervades universities all around the country. Conservatives can't host speakers, can't put on events, because as soon as we get started vile leftists will shut down our events while administration cooperates with their oppressive, disgusting actions.

We want to thank Milo Yiannopoulos for putting up with this garbage, and we hope, in some way, DePaul administration will actually do something to address this abomination and hold those responsible for what this event became accountable.
Read Holtschneider's full response and the CRs' statement.
Like The College Fix on Facebook / Follow us on Twitter
IMAGE: American Council on Education/Flickr
Like The College Fix on Facebook / Follow us on Twitter