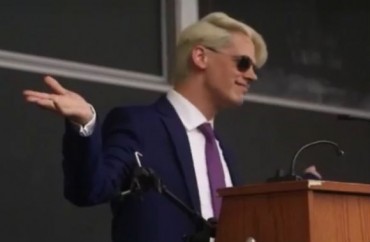 UPDATED
An eyewitness account
DePaul University ordered its College Republicans (CRs) chapter to spend several hundred dollars extra on beefed-up security for its event with anti-feminist firebrand Milo Yiannopoulos Tuesday night.
The security presence proved to be purely ornamental.
After protesters were warned that they would be removed if they interrupted the event, both DePaul security and Chicago police officers went limp in the face of Black Lives Matter activists who took over the stage.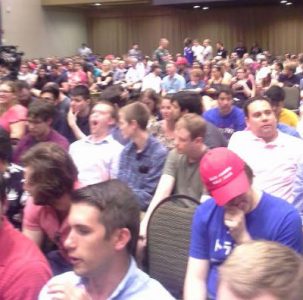 Roughly 15 minutes into Yiannopoulos's kickoff question-and-answer session with a CR member about his recent controversies and political statements, a once-homeless student and youth activist named Edward Ward marched up the aisle blowing a whistle. Ten to 15 protesters headed for the stage to join Ward.
RELATED: DePaul demands hefty security payment for Milo Yiannopoulos visit, slashes his speaking time
After seeing that administrators weren't doing anything, some pro-Yiannopoulos attendees went on stage to argue with the protesters.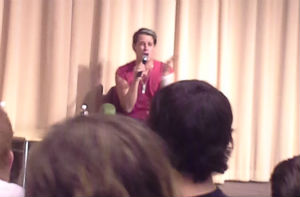 During the argument, Yiannopoulos called a black Republican student, Kati Danforth, up to the stage. That didn't help the situation: When Danforth tried to reason with the protesters, they shouted her down.
Following minutes of arguing between the two groups, CRs President Nicole Been announced that anyone on stage would be removed upon the arrival of Chicago police, whom campus security had called for help.
But when Chicago police arrived, they did not remove protesters, though administrators made faint attempts to talk to them.
RELATED: Conservative and libertarian messages require high 'security fees' on campus
That was when Yiannopoulos resumed taking questions and also took selfies with the crowd, many wearing "Make America Great Again" baseball caps. After more arguing and protests, with no action from police, Yiannopoulos led his fans to President Dennis Holtschneider's office and the public safety office. He ended the event early and left.
(Holtschneider is currently in France with the university's trustees. He released a statement Wednesday that gave the CRs a mild apology, but he said both sides were to blame for the melee and thanked security and police who were "thrust into an unexpected and challenging situation.")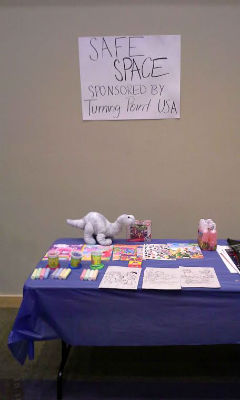 Turning Point USA, a free-market student organization that helped pay for the event, sponsored a tongue-in-cheek "safe space" for the protesters, who did not appear to use it.
At one point administrators stood in front of the protesters to protect them, a gesture they failed to offer Yiannopoulos. Associate Vice President Peggy Burke, who wore a nametag, was one of them.
RELATED: Blood paint and vandalism greet anti-feminist troll Milo Yiannopoulos at Rutgers
The only time administrators told the crowd to leave was when pro-Yiannopoulos students tried to engage and argue with the Black Lives Matter protesters.
Students gathered outside the student center after the event, and some students reported being hit by protesters.
SJW protesters assaulting people who came to see @Nero speak at #DePaul. #depaulagainsthate pic.twitter.com/zIEwiX6MCJ

— Matt Forney (@basedmattforney) May 25, 2016
Unlike the Black Lives Matter protest, the DePaul Socialists held a peaceful protest elsewhere on campus beforehand.
EDITOR'S NOTE: The author works for Turning Point USA, one of the sponsors of Tuesday's event. He also created the "safe space."
UPDATED: DePaul President Dennis Holtschneider released a statement Wednesday responding to Tuesday evening's events. The article has been amended to include his thoughts.
RELATED: Public university demanded conservative students pay $621 in security fees for Ben Shapiro talk
Like The College Fix on Facebook / Follow us on Twitter
IMAGE: YouTube screenshot
Like The College Fix on Facebook / Follow us on Twitter