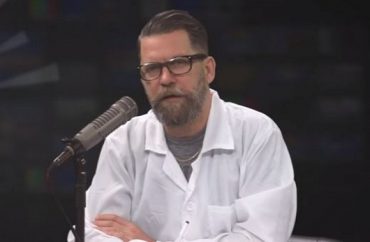 Libertarian provocateur and leader of the "Proud Boys" group Gavin McInnes was disinvited from speaking at DePaul University, with President Rev. Dennis Holtschneider saying in an email to students Wednesday his "public encouragement of violence" has no place on campus.
But McInnes said that characterization is false.
"All I've ever said is if we get attacked, we should fight back," McInnes said in an interview Wednesday with The College Fix.
The DePaul College Republicans, which has been planning the May 30 speech for months when it was abruptly cancelled, posted on Facebook on Wednesday that the decision runs afoul of the First Amendment and shows the university's left-leaning bias.
"In arguing that he supposedly endorsed violence, DePaul fails to acknowledge the threats surrounding that situation; indeed, rather than a call for violence, they were calls for self-defense," the group stated. "…In summation, when a Paelstinian [sic] terrorist convicted of murdering two people came to campus, DePaul was nowhere to be found. But when a conservative standing up for free speech and self-defense does, apparently there's a problem."
Holtschneider, in his email, quoted McInnes as saying "You get beat up, kick the crap out of an antifa." And after clashes outside his February event at New York University, saying "We're the only ones fighting these guys and I want you to fight them, too. It's fun. When they go low, go lower."
My talk was canceled because the only thing worse than being willing to fight back is enjoying it. pic.twitter.com/1xfDyNDFEw

— Gavin McInnes (@Gavin_McInnes) May 17, 2017
MORE: Interest in NYU College Republicans skyrockets after violent protesters shut down McInnes talk
McInnes said that's all self-defense. They are not starting the fights.
"Remember if they go low, go lower, not out of the blue," McInnes told The Fix. "I've always told my sons, 'Don't start fights, but if someone starts a fight, finish it.' All dads used to tell their sons that. All Americans used to tell their sons that. Now it's considered sedition to just stand up for yourself."
Earlier this year, McInnes announced that the military division of the Proud Boys would be joining a group called the Fraternal Order of Alt-Knights, headed by Kyle Chapman, otherwise known as Based Stickman after defending Trump supporters from a group of fighting leftists at a Berkeley rally in March.
In his email, Holtschneider also denounced that organization, saying they were willing to "meet protests with violence." Holtschneider did not draw issue with the content of McInnes' speech, but McInnes himself.
MORE: DePaul forbids 'Gay Lives Matter' posters as students protest gay reporter's talk on radical Islam
The university had already allocated $10,000 for the event after approving McInnes' appearance last fall, the Daily Wire reported.
McInnes speculated in his interview with The Fix that the school waited to cancel the talk last minute and the money allocated for his event will be used for other purposes—namely funding scholarships for illegal immigrants that DePaul recently announced it would offer.
"That's what's really going on here, it's a money laundering scheme," McInnes said. "Where did that money come from? The tuition. But if the tuition bill said 'illegal immigrant fund' it doesn't look good. Dads don't write those checks. But when it says 'free speech public figure fund,' the parent says, 'Yeah, that sounds reasonable.'"
The university did not indicate what would happen to the funds in their email, but stated its decision was purely to protect students.
"Our students' well-being remains our highest priority, and therefore DePaul is rescinding McInnes's invitation to speak on campus," Holtschneider stated.
McInnes said he may still go to DePaul even though the event has been canceled.
"I definitely should go down with a bullhorn and stand on some random hill the way we did at Berkeley when Ann got shut down, but then again, I'm a 46-year-old millionaire. Do I really have to go running to schools that ban me and yell from a cafeteria? I might, but I'm not sure."
Jorin Burkhart, a member of the DePaul College Republicans' executive board and the main planner of the speech, said administrators' decision is frustrating but represents a larger pattern.
"Although it's extremely annoying that the administration decided to cancel the event months into planning it and with less than two weeks before the speech, I'm frankly not surprised," he told The Fix via email. "This decision is yet another slap in the face in a series of negative decisions directed at me and my College Republican colleagues."
Burkhart added that although Antifa had threatened to protest the speech, the "only possible violence would have been from the Left."
Overall, McInnes said the situation reflects the sad state of higher education today.
"A radical leftist sends a tweet to their administration and they literally discharge in their diapers saying, 'Ok, Ok, make it go away.' That's a good short-term plan if you want to please a tweeter, but alumni won't give to your school if you capitulate so quickly," he said. "It's like giving candy to kids for dinner. You're really popular, but you're not providing protein for the students. In the long run, nobody wants to support an institution that doesn't support free speech."
MORE: DePaul bans Ben Shapiro from speaking on campus
MORE: Professor who screamed at NYPD to beat up McInnes also does … 'lobster porn'
Editor's note: Jorin Burkhart writes for The College Fix.
Like The College Fix on Facebook / Follow us on Twitter