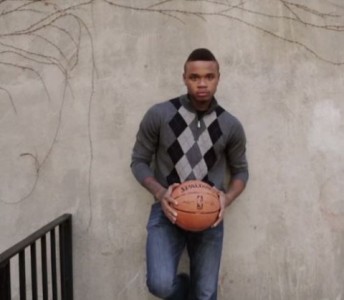 ANALYSIS
Are schools passing on Derrick Gordon because he's gay, or because he's just not that good?
Gordon, the first openly gay college basketball player who recently transferred to Seton Hall from University of Massachusetts-Amherst, seems to think it is because he is gay. Gordon first came out in April 2014 while a sophomore playing for UMass, according to ESPN.
He told USA Today he faced "blatant homophobia" during a recent recruiting process, but declined to name which schools.
"During the recruiting process, a number of schools didn't want me because I'm gay," Gordon told USA Today earlier this month. "To me, that's blatant homophobia. At the end of the day, no coaches will ever admit that they don't want me because I'm gay and there's baggage that comes with the attention."
But that claim seems sketchy due to the fact Gordon will not name which schools treated him that way, and won't even name which schools recruited him or which schools he reached out to.
In fact, Gordon probably has other factors weighing against him.
He's 23 years old. He is now at his third school, and NCAA transfer rules limit the amount of schools available to him. Additionally, Gordon is not a particularly outstanding player, averaging only 9.8 points per game.
He did not even make it into CBS Sports Top 100 Players ranking. According to a ranking by Value Added, Gordon ranks 368th.
Those facts alone most likely limited Gordon's recruiting, not his sexual orientation.
Gordon did not return requests by The College Fix to comment on the alleged homophobia.
But wouldn't Gordon be betraying other gay athletes and possibly putting them in uncomfortable positions by not warning them which schools are unaccepting of gay athletes?
For example, University of Rhode Island was on Gordon's short list when he transferred from Western Kentucky in 2012, according to an article by Jeff Goodman for CBS Sports.
Goodman wrote at the time that location was a factor for Gordon, who "wanted to get close to his home in New Jersey and visited UMass, St. Joe's and Rhode Island."
Goodman, a college basketball insider, told The College Fix in an e-mail he was not aware of which specific schools would have been interested in Gordon.
Rhode Island also just picked up transfer Stanford Robinson from Indiana University. Robinson is a similar sized point guard with slightly worse stats, but he also has a few years of eligibility left, whereas Gordon only has one.
According to ESPN, Gordon and Robinson were eight and nine respectively in the top 15 uncommitted transfer students as of May 15.
A Rhode Island spokesperson told The College Fix the school did not recruit him this time. He pointed out that players who transfer within the Atlantic-10, UMass and URI's conference have to sit out two years.
Thus schools such as Virginia Commonwealth University and St. Joseph's would also be out of the running, as they would have to wait for Gordon, who would turn 26 during the 2017-18 season, to play again.
And under the NCAA's graduate transfer rules, Gordon would likely have to attend a university that offers a graduate program not offered at UMass, shrinking his options even more.
Boston College would also seem to fit with Gordon – it is close enough to home for Gordon, considering he was at UMass, and they were recruiting Eli Carter, a point guard with similar stats to Gordon, as well as being 24 years old to Gordon's 23 years old.
Carter was the twelfth best transfer player still left as of May 15. It seems unlikely Boston College would be homophobic, considering the wealth of LGBT groups on campus.
It seems suspect why Gordon, who has seized on the role of being an openly gay basketball player, would not expose the schools who he says are blatantly homophobic.
If such schools were out there, why would Gordon not want to make the recruiting process easier for gay athletes by warning them which schools would not be receptive to them?
It looks like Gordon is either being misleading about facing homophobia, or is not concerned with protecting other gay athletes. Until Gordon comes forward with the schools who were homophobic toward him, his claim seems flimsy.
College Fix reporter Matt Lamb is a graduate student at the University of Nebraska-Omaha.
Like The College Fix on Facebook / Follow us on Twitter
IMAGE: YouTube screenshot
Like The College Fix on Facebook / Follow us on Twitter