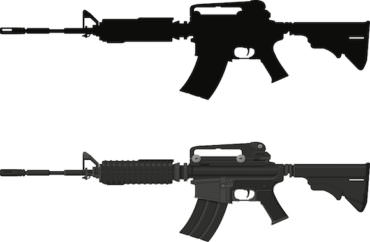 Evergreen 'only state university' without rifles for active shooter situations
A college at the center of a national controversy is denying its police force access to critical defense weapons despite repeated threats made against the school.
Evergreen State College, which has made headlines over the last three months due to racial turmoil and unrest, does not allow its law enforcement access to rifles, a longstanding point of contention at the school and one that continues to be a pressing issue. The school received a threat as recently as mid-August.
The chief of Evergreen State College's Police Services resigned earlier this month, citing in part the force's lack of proper equipment to handle active shooter situations, The Daily Caller reported.
Speaking before the Washington State Senate Law and Justice Committee on June 20, then-Chief Stacy Brown stated: "We have handguns; we do not have rifles…We are the only state university that does not have rifles for active shooter situations."
When asked by the committee whether the police force was denied rifles on the basis of funding or philosophy, Brown replied that it was due to a "philosophical discrepancy," according to The Caller.
Reached by phone this week, a representative of Evergreen State's Police Services told The College Fix that the police department is currently headed by interim police chief Ed Sorger.
In 2013, the campus newspaper The Cooper Point Journal reported that Sorger, then the chief of police, felt that from a tactical standpoint, semi-automatic rifles could be beneficial if a school shooting were to occur.
"Your chances of stopping that kind of event are much greater [with assault rifles]. We want to give the best service we can to the community," Sorger said at the time.
That same year, a petition in support of arming campus police in the wake of mass shootings at schools across the country was circulated, the Journal reported.
The school's refusal to arm its police force with rifles continues at a time when Evergreen is facing periodic threats to campus safety.
In an email obtained by The College Fix dated August 14, Evergreen president George Bridges warned of an unspecified "threat" directed at the school, one that referenced "the events in Charlottesville." The threat is "being analyzed by the FBI," according to Bridges.
In June, the campus shut down for several days in the wake of threats directed toward the school.
Other universities in the region equip their police with rifles in order to guard against active shooter situations. Washington State University Police officer Michael Larson explained his school's decision in an email to The College Fix:
The WSU Police Department primarily made a significant push for patrol rifles in the Spring of 2007 after the Virginia Tech Shooting and an active shooter event that occurred in Moscow, ID (eight miles from Washington State University-Pullman) where a Moscow Officer was killed.

After these events, knowing that patrol officers will need a better tool to have to stop an active shooter, officers were able obtain police department and University administrator's approval to purchase rifles. A patrol rifle is simply another tool for law enforcement to use and this firearm is safer to use within any community as it presents less danger to bystanders from over-penetrating or ricocheting projectiles than do the standard issue handgun.
Chief Brown was the subject of protest upon her swearing in in January, and was targeted by protesters following the incident with Professor Bret Weinstein in May, during which students accused him and the school of racism for not taking part in an anti-white Day of Absence observance. Student protesters demanded Brown's ouster on May 24, and a cartoon of Brown in a KKK outfit was circulated around the same time.
Reached by e-mail, Brown expressed general frustration with her time at Evergreen State, telling The Fix: "I am really just trying to move on with my life in a positive manner, after having gone through such a rough period for the last 10 months."
MORE: GWU students: Campus police protection an 'act of violence' — because cops support Trump
MORE: UC Merced student protesters demand campus police be disarmed, call cops 'harmful to climate
Like The College Fix on Facebook / Follow us on Twitter
IMAGE: Shutterstock