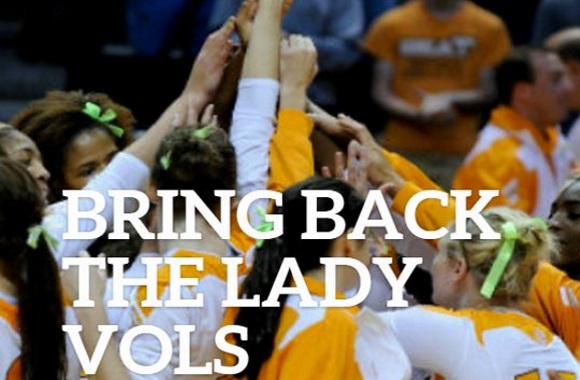 Campus leaders say it's a branding consolidation move, ignore pleas for reconsideration
Starting today, the University of Tennessee-Knoxville will drop its long-used nickname "Lady Vols" from all women's sports teams except basketball. The controversial decision has prompted backlash, but not enough to reverse the decision.
Female teams will now adopt the men's "Volunteers" nickname and the "Power T" logo despite protests, petitions and passionate pleas to keep the tradition alive.
Dropping the nickname "Lady Vols" is a "consolidation of logos and word marks in order for better branding consistency, with the Power T serving as the primary mark for campus and athletics," according to the UT Athletics website.
Among those who stand against the change is former Lady Vol basketball player Cierra Burdick, who told the website bringbacktheladyvols.com that "The Lady Vol logo is more than a brand that's worn for games and meets. It's a signature of excellence that has been carved out by hundreds of women's blood, sweat, and tears. To do away with such a meaningful signature is a gesture that loses sight of the true essence of greatness."
Other current and former Lady Vol athletes, fans, parents and coaches have also posted their objections on the same website.
Anna Newell, a Lady Vol golfer, took aim at the Athletics Department's brand-building rationale, arguing "the Lady Volunteers have created a historic brand of their own, which should be respected as an equal. Not only has the Lady Volunteer name been representing women's athletics at the University of Tennessee for nearly 40 years, but during that time, Lady Volunteer teams have captured 11 national championships and 42 Southeastern Conference Championships."
The Tennessean reports that a petition to reverse the name change garnered 23,000 signatures.
What's more, the Tennessee State House tried to stall this change and urged campus leaders to rethink the issue. State Representative Roger Kane, chairman of the education subcommittee, wrote a letter to the university's Board of Trustees in support of the Lady Vols name, and requested that they discuss the matter at their meeting in late June. Forty-four representatives co-signed the letter.
A protest at the board's June 25 meeting included calls to "do the right thing, save the Lady Vols."
But the university's Board of Trustees remains unmoved.
A response letter penned by James L. Murphy III, vice-chair of the Board of Trustees, stated "the Knoxville campus will discontinue the use of the Lady Vol logo for all teams except women's basketball," and that the rebranding issue would not be added for reconsideration on the meeting agenda.
"The board should not interfere with the campus-based decision on discontinuing the use of the Lady Vol logo and name," reads the letter, a copy of which was obtained by The College Fix.
Like The College Fix on Facebook / Follow us on Twitter