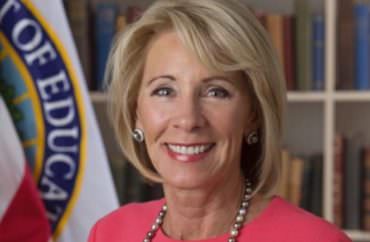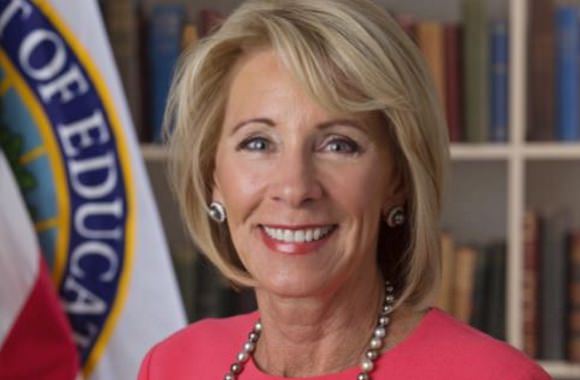 Her goal is 'helping abusers and rapists avoid accountability'
Education Secretary Betsy DeVos* gutted Title IX and set loose rapists on college campuses across America on Thursday.
At least, that was the reaction on Twitter.
In a half-hour speech at George Mason University's law school, DeVos announced the department will move away from its predecessor's regulatory guidance on sexual misconduct and seek public comments on a replacement framework through an agency rulemaking.
She told CBS the department has started an "extended" process, not a single "event," but it's her "intention to revoke or rescind the previous guidance around this," the so-called Dear Colleague letter from 2011 and subsequent missives from the department.
While she left many details unstated and took no questions after the speech, activists, lawyers, pundits and ordinary internet users drew far-flung conclusions about what the secretary had wrought on the single-sentence Title IX and its implementing regulations.
Title IX and Obama guidance are the same thing
Many commentators claimed that an agency chief had forecast her intention to nullify a law that turned 45 years old this summer.
The accusers-rights group UltraViolet, which once made a "retro pornography" video to promote its version of affirmative consent, said in a press release that DeVos acted at the behest of "men's rights activists" by highlighting due process for accused students.
"With sexual assaults routinely going unreported, uninvestigated and unpunished , the scales are already heavily tipped in the favor of rapists," said co-founder Nita Chaudhary. "The idea that we need to focus more on the rights of the accused would be laughable if it weren't so terrifying and outright dangerous."
Chaudhary shared the methodologically problematic statistic that one in four women are sexually assaulted in college: "Today's announcement makes clear that Betsy DeVos and [President] Donald Trump are more concerned with protecting perpetrators than the survivors they sexual assaulted."
DeVos and Trump have signaled that their goal is "helping abusers and rapists avoid accountability," accusers-rights group Know Your IX said in a press release.
"Today's announcement risks taking us back to to the days when sexual violence routinely compromised survivors' access to education and schools swept sexual assault under the rug," it said, conflating the Obama administration's nonbinding regulatory guidance with the 1972 law itself.
Former Vice President Joe Biden, the politician most responsible for the development of the 2011 guidance, also conflated the 37-word law with his administration's disputed interpretation of its mandates.
MORE: DeVos promises to fix 'failed system' of biased Title IX investigations
Any change that weakens Title IX protections will be devastating: https://t.co/8E3n3RIMTS

— Joe Biden (@JoeBiden) September 7, 2017
Napolitano flip-flop
In a statement denouncing DeVos's planned rulemaking, University of California President Janet Napolitano seemingly undermined her previous comments on the Title IX guidance.
The secretary "aims to undo six years' worth of federal enforcement designed to strengthen sexual violence protections on college campuses. This is extremely troubling," Napolitano said.
Revising or rescinding the 2011 "Dear Colleague" guidance – which did not go through a rulemaking even as it made substantive changes to previous department practices – "will prompt fears of reduced support for survivors of sexual violence," she said.
You can't have a system that protects both survivors and rapists. #TitleIX #stopBetsy @BetsyDeVosED

— Pauline (@CombatOstrich) September 8, 2017
However, in a 2014 law review article, Napolitano raised concerns about some provisions of the guidance, according to journalist Emily Yoffe in a new Atlantic feature on the injustices created by the Obama administration guidance.
Napolitano asked then: "Should there be any recognition of an accused student's rights against self-incrimination in the [college] administrative investigation?" The secretary of homeland security when the guidance was published, Napolitano also questioned the Department of Education's decision to put colleges under a "cloud of suspicion" by publicizing investigations of their practices before any wrongdoing was found.
California Lt. Gov. Gavin Newsom, whose state has turned much of the 2011 guidance into statutory law, was one of many who used the #TitleIX hashtag on Twitter to denounce DeVos.
Betsy DeVos is willing to sacrifice protections for sexual assault victims to gain political points…and it's not even a surprise. #TitleIX pic.twitter.com/1gUc0VQUdy

— Gavin Newsom (@GavinNewsom) September 7, 2017
American Enterprise Institute scholar Christina Hoff Sommers – the self-proclaimed Factual Feminist – quickly responded to Newsom by showing him the new Atlantic article, which highlights disbelief of women who say they weren't sexually assaulted and racially tinged Title IX adjudications.
Due process groups and lawyers for accused students cheered DeVos's pivot toward public input and a review of agency practices that were targeted in at least two lawsuits by accused students.
"I have long insisted that this is not a male versus female, victim versus accuser debate, but merely a need for fair, equitable, uniform and consistently applied set of policies and procedures," and DeVos apparently agrees, attorney Andrew Miltenberg told The College Fix.
"Sadly, these much needed, long awaited reforms will come too late for those who have already had their future damaged by the current system which universities have in place," said Miltenberg, who recently set up a Boston legal practice focused on local students accused of sexual misconduct.
MORE: Boston law office focuses on wrongly accused students
FoxNews: Attorney Andrew Miltenberg: "The Obama admin. has laid a very heavy hand on the disciplinary process in c… pic.twitter.com/SB1s9gzgC8

— Ali Ebrahimzadeh Esq (@AliEesq) April 23, 2016
KC Johnson and Stuart Taylor, co-authors of The Campus Rape Frenzy, wrote in The Wall Street Journal that DeVos made an "obvious affirmation of fundamental American principles" that were "almost wholly absent" in the preceding administration's Office for Civil Rights.
"The OCR's guidance letters were not even formal regulations, so that the department bypassed the public notice and comment rule-making process required by the Administrative Procedure Act," which DeVos has promised to correct, they wrote.
While colleges will fight to keep their "entrenched bureaucracies" that benefit from an expansive reading of Title IX, and some states have mandated preferences for accusers in state law, junking the Obama guidance will at least "eliminate one of universities' standard defenses against lawsuits by accused students" – that Washington forced their hand, Johnson and Taylor wrote.
Perhaps the most amazing single paragraph in Yoffe's piece, worth reading and mulling before you join any movement to #StopBetsy /17 pic.twitter.com/UeSNkFahcK

— Walter Olson (@walterolson) September 8, 2017
The Foundation for Individual Rights in Education, which is litigating a case challenging the 2011 guidance, said DeVos's announcement validates its recent survey that found top colleges deprive their students of a host of due process protections.
"Colleges did not simply 'forget' obvious principles of fairness" in their sexual-misconduct adjudications, but were rather "reacting to government policy that made it clear that sticking to these principles was a ticket to interminable and intrusive federal investigations," said Executive Director Robert Shibley.
After President Obama's OCR conveyed to colleges and the public that "due process is an impediment to justice," DeVos's speech provides "reason for great optimism," he said.
Both FIRE and Robby Soave of Reason released lists of incidents – some cited Thursday by DeVos – that seemed to directly result from the 2011 guidance and following OCR letters. They include colleges that refused to believe female students who said they weren't victims and launched Title IX investigations of women for their speech.
Before you tweet #StopBetsy , consider that every crazy Title IX case she referenced actually happened https://t.co/X88NdK7qdv

— Robby Soave (@robbysoave) September 7, 2017
MORE: Three in four top colleges presume accused students guilty
Like The College Fix on Facebook / Follow us on Twitter