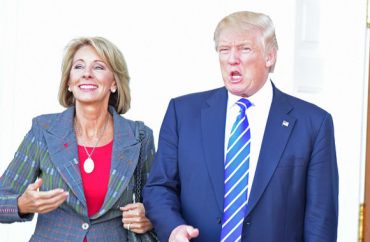 Michigan is a terrible example for due process
Betsy DeVos's meetings with figures who are known for their work on campus sexual-assault issues are raising concerns for both due-process activists and victim rights' groups.
The secretary of education* met with Michigan's first lady, Sue Snyder, to discuss "how Michigan can be a model for other states" on fighting sexual assault, a spokesperson for Gov. Rick Snyder told The Detroit News.
The day before, DeVos met with Earl Ehrhart, a Georgia state representative who has threatened to withhold funding from state universities that deprive students of due process. That meeting included Steve Wrigley, chancellor of the University System of Georgia, which slightly changed its protocols following Ehrhart's threats.
While the contents of those meetings have been described in vague and positive terms, that hasn't stopped observers and advocates from looking for clues to DeVos's agenda based on whom she has visited.
They are trying to gauge how the Trump administration might deal with the influx of sexual assault allegations against male students in the past few years, with critics accusing the Department of Education's Office for Civil Rights (OCR) of forcing schools to undermine the rights of accused students.
The Detroit News described Sue Snyder as the "brainchild" behind summits in 2015 and 2016 that are aimed at "making Michigan a leader in sexual assault prevention on college campuses."
Last fall's summit furthered the narrative that rape is rampant on college campuses and that men must be re-educated to stop rape, though the rhetoric did not always line up with current buzzwords.
A Detroit congresswoman, Debbie Dingell, said campuses won't change "until men really understand no means no," according to the News.
ICYMI: Sue Snyder sets date for next statewide sexual assault awareness summit –> https://t.co/DGKwv6w2ef #MISaferCampus

— CSA Initiative (@CSAInitiative) May 2, 2017
MORE: University System of Georgia is now slightly more fair to the accused
DeVos would only say about her meeting with Snyder that the first lady talked about her advocacy work around "ending campus sexual assault," and called her a "strong advocate in the movement" to do that. "I thank her for her continued work in fostering safe campuses in Michigan and throughout the country."
According to one professor who closely follows due-process cases, Michigan is no role model for the federal government.
Brooklyn College's KC Johnson, whose book The Campus Rape Frenzy is skeptical of how Title IX is currently enforced, told The College Fix in an email he didn't "see anything wrong with DeVos meeting with both sides on the issue."
He called it "a welcome change from the approach followed by OCR directors [Russlyn] Ali and [Catherine] Lhamon during the Obama years, both of whom pointedly refused to meet with representatives from [the Foundation for Individual Rights in Education, a due process advocacy group,] despite requests to do so."
MORE: University expelled blacks for uncorroborated rape, threatened witnesses
But Michigan's record on investigating sexual-assault allegations "is very poor," Johnson continued.
He cited two lawsuits filed against the University of Michigan, one in which the university "found an almost certainly innocent student guilty," and a more recent suit where "the university overturned a not guilty finding, amidst allegations of conflict of interest."
He called Snyder's advocacy "representative of multiple troubling patterns." Another public university, Michigan Tech, "claimed that the Obama administration's reinterpretation of Title IX trumped the Constitution," and the state's universities are bound by "the most due process-unfriendly precedents" of any federal appeals court, the 6th Circuit's.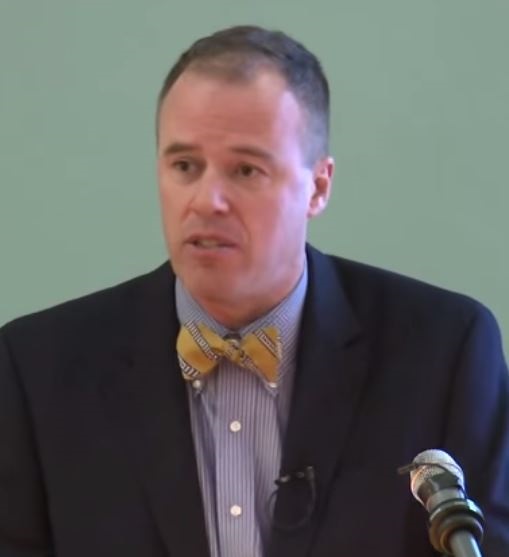 MORE: Michigan Tech says Title IX overrides Constitution
The due process advocacy group Stop Abusive and Violent Environments declined an opportunity to criticize DeVos's meeting with Snyder.
SAVE President E. Everett Bartlett told The Fix it was "pleased that Secretary DeVos is engaging with a variety of perspectives on this issue," but pointed to polling that found "the vast majority of Americans believe campus sexual assault is a criminal justice issue that should be handled by the criminal justice system."
The group expects OCR under DeVos's leadership "will soon begin to implement policies that assure campus rapists are appropriately punished, while respecting the due process rights of the accused," Bartlett said.
DeVos is a 'breath of fresh air' – but noncommittal on due process
The Department of Education was even more vague about DeVos's meeting with Ehrhart, who controls the purse strings for Georgia's public universities as a committee chairman, and Wrigley, the chancellor.
It said they "touched on a broad range of higher education issues facing the state of Georgia, Georgia's students, and its universities."
But Ehrhart told the Marietta Daily Journal that he brought up his failed bill to require Georgia colleges to provide greater due process to accused students and report rape allegations to law enforcement, and said he's "even more committed" to getting it through the Legislature.
"We give due process to murderers, to armed robbers, but on college campuses, there is no due process," he said.
Though DeVos didn't take a position on his bill at their meeting, "she did say that she is not a fan of federal intervention with the states across the board in five or six issues," Ehrhart said, calling her "a breath of fresh air."
MORE: Due process 'will get worse before it gets better,' law students told
Days after her meeting with Ehrhart, various groups that advocate for sexual-assault victims sent DeVos a letter criticizing her for not yet meeting with "student sexual assault survivors, organizations dedicated to their rights, or Title IX experts."
It was signed by many groups that saw their influence rise under the Obama's administration's OCR, including the National Women's Law Center, SurvJustice, End Rape on Campus and Know Your IX.
They accused Ehrhart of waging "a years-long campaign to undermine the long-established Title IX rights of students whose educations are threatened by sexual violence—rights you are charged with enforcing."
Title IX, as written, prevents sex-based discrimination in federally funded education programs. Only since the Obama administration has the government interpreted it to require schools to conduct sexual-assault investigations a certain way, and its interpretation has been challenged in multiple lawsuits – including by Ehrhart himself.
The National Women's Law Center told The Fix its education experts were "slammed" and couldn't answer what kind of compromise it might support between victim rights' groups and due process groups.
Several Fix queries to DeVos's office and Ehrhart's office were not returned.
MORE: Georgia bill would improve due process for accused students
Like The College Fix on Facebook / Follow us on Twitter
IMAGE: a katz/Shutterstock