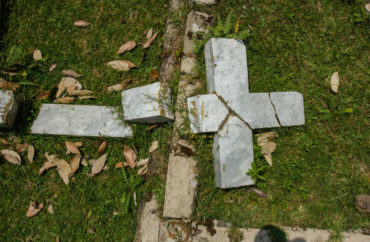 Group was put on probation with 'no loss of privileges'
A Christian student group at Harvard University has been placed on probation, and ordered to sever ties with its parent organization, but will not face any immediate penalties—with the university declining to comment on why the organization has been sanctioned without any apparent follow-through.
Harvard College Faith & Action, a "gospel-centered community" on the university's campus, has come under fire in the past month after the group invited a formerly gay Christian woman to speak to the group. Since then, the group has been slammed as "homophobic" and "anti-gay" by the student newspaper, placed on "administrative probation," and ordered to sever ties with its parent organization, Christian Union.
Despite all this, The Harvard Crimson reports that the group will not face any immediate penalties, and will continue to be able to "book rooms, recruit students, [and] receive Undergraduate Council funding."
Group accused of hosting 'homophobic' speaker
Harvard College Faith & Action was thrust into the spotlight earlier this semester. On February 17, it hosted ex-gay speaker Jackie Hill-Perry at their weekly gathering, Doxa.
Hill-Perry, a Christian, advocates celibacy for people with homosexual desires. Her website describes her as a poet and public speaker who was "saved from a lifestyle of homosexual sin and the like" and "compelled to share the light of Gospel Truth." Her work promoting Christianity has been featured in the Washington Times, the 700 Club, and other outlets.
The event prompted an editorial in The Crimson that accused the Christian student group of giving "hate a platform." The Crimson claimed Hill-Perry supports gay conversion therapy, though it provided no evidence to support it.
Roughly a week after Hill-Perry spoke, Harvard announced that Faith & Action was put on "administrative probation" for conducting itself "in a manner grossly inconsistent with the expectations clearly outlined in [the] Student Organization Resource and Policy Guide."
The probation was tied to the resignation of an assistant bible group leader in the fall of 2017. The student in question had recently entered into a same-sex relationship and was asked by group leaders to step down.
But group presidents Scott Ely and Molly Richmond denied that the student's sexual orientation resulted in their resignation, telling The Crimson: "The student in this case was removed because of an irreconcilable theological disagreement pertaining to our character standards."
Harvard administrators told the organization that it was the first-ever student group put on probation. The group was also ordered to sever ties with its parent ministry, Christian Union, citing a university policy that student organizations must be independent of outside influence. Group leaders maintain that Christian Union made no decisions for Faith & Action.
Asked to explain the theological disagreement to The Crimson, Ely and Richmond explained that the group condemns extramarital sex, regardless of sexual orientation. However, the student and four other members of Faith & Action told The Crimson that they believe she was asked to resign because she began a same-sex relationship.
Ely and Richmond told The Crimson that Faith & Action is the first student organization in Harvard's history to be placed on probation, and they are unaware of the full ramifications of the decision.
No immediate practical effect
In spite of all this, Faith & Action's administrative probation appears to have no immediate impact on the organization, raising questions as to why it was implemented in the first place.
Its weekly gathering, which takes place in a Harvard-owned space, has continued as normal since the probation was leveled, The Crimson reported this week. The group has also not been cut off from funding from the Undergraduate Council.
Faith & Action's continued access to funding caught the council off-guard; last month the student government assumed as a matter of course that Faith & Action would be barred from funds while on probation.
"Apparently HCFA is not actually banned from UC Funding per the OSL," finance committee chair Henry Atkins wrote to the committee last week, according to The Crimson. Atkins vowed to hold a vote next week "on whether or not that should be the case."
Reached for comment via email, Harvard spokesman Aaron Goldman provided The College Fix with a statement from Dean Alex Miller: "We are working closely with the leadership of HCFA to ensure that they are in compliance with all of Harvard's policies with respect to recognized student organizations."
"While we will not discuss specific details regarding discipline of students or organizations, we look forward to continuing our work and dialogue with HCFA," Miller added.
Harvard College Faith & Action did not respond to repeated requests from The College Fix seeking comment.
Ordered to cut ties with parent ministry
About a week after the group was informed of their probation, Faith & Action was told that they must cut ties with Christian Union in order to regain recognition from the university, according to The Crimson.
Harvard spokesman Aaron Goldman told The Crimson that Faith & Action must demonstrate that they are following Harvard's policies on "local governance" of student organizations if they wish to have their probation lifted.The student handbook dictates student groups must make all policy decisions independently of any outside groups.
Faith & Action leaders maintain that Christian Union exerts no influence over the HCFA's group decisions.
Asked by The College Fix about the details of their relationship with Faith & Action, and what in specific might violate the student handbook, Christian Union CEO Matt Bennett simply stated: "Christian Union supports and resources HCFA." The group did not respond to follow-up questions seeking to clarify the type of support it offers the group.
MORE: Student paper accuses Harvard Christian group of 'homophobia' and 'hate'
MORE: Harvard Christian group put on probation after asking bisexual Bible leader to resign
IMAGE: Denis Shevyakov / Shutterstock.com
Like The College Fix on Facebook / Follow us on Twitter