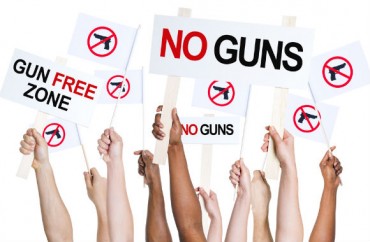 As hundreds of professors promise to flout Texas law by blocking licensed students from carrying concealed handguns in class, the University of Texas won't commit to enforcing a different part of state law.
Corporate Counsel reports that UT-Austin General Counsel Daniel Sharphorn is mum on how he'll handle the "Campus (DILDO) Carry" protest against the new campus-carry law, even though publicly displaying dildos violates
a Texas law that makes it a misdemeanor punishable by a $500 fine to intentionally make an "obscene display or distribution." [Protesters] also face a school rule that prohibits the display of any "visual image" associated with obscenity.
RELATED: Texas professors plan to flout the law by telling students they can't carry guns
Sharphorn, a former Judge Advocate General at West Point, implied the school will let the dildos wave freely: "We do try to tolerate a good deal of free speech on campus."
Law professor John Banzhaf of George Washington University tells Corporate Counsel the school risks a First Amendment lawsuit if it cracks down on the dildo-wavers.
Sharphorn seems less concerned about observing the constitutional rights of law-abiding students who own guns, saying one of his lawyers is reviewing the new law, which gives schools a year to decide on areas of campus to exempt.
RELATED: Prof: Campus carry would force scholars to give A grades so they don't get shot
RELATED: Texas students to protest new gun-rights law with 'Campus (DILDO) Carry' demonstration
Like The College Fix on Facebook / Follow us on Twitter
IMAGE: Rawpixel/Shutterstock