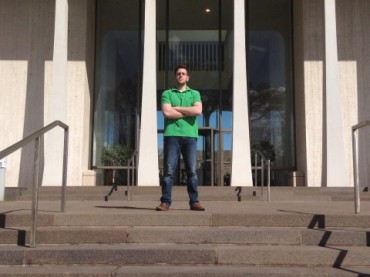 OPINION
Over the past few days, students at Princeton University have been voting in a referendum on whether the school should divest from companies allegedly "complicit in the Israeli occupation of the West Bank and blockade of the Gaza Strip."
As a sophomore at Princeton–one who entirely rejects the premises of the argument for divestment–I have a message for my peers: Divest. I Dare You.
The overwhelmingly left-wing coalition of Social Justice Warriors on campus who want to divest from companies that profit from Israeli actions in the West Bank probably don't realize that pro-Israel entrepreneurs are likely three steps ahead of them.
Go ahead and divest, see how that works out for you. See what effect you have.
When left-wingers and universities pull their investments from huge companies like, say, Caterpillar, the economic pressure applied to the company to cease transacting with Israeli contractors is minuscule.
But here's the kicker: Sheldon Adelson is banking on your divestment.
Mass selling of Caterpillar stock artificially drives down its price, which sounds nice for the divestment folks until the unintended consequence of divestment is finally realized.
Someone like Adelson, that wealthy right-wing Zionist (three pejoratives seems like enough of an introduction) and casino magnate (ok, four), will in all likelihood snap up all those undervalued securities and begin making money off his investments.
For someone with money and pro-Israel sympathies the move is a no-brainer, both financially and ideologically. Any economist worth his salt can see this unintended consequence looming.
Now Caterpillar has been pressured to change its ways exactly zero, and instead of returns on Caterpillar investments being channeled to your English department, it's in the hands of the man bankrolling the right-wing Israeli media.
Most Leftists understand that if Sheldon Adelson wants you to do something, you probably shouldn't do it.
I recognize, though, that the push for divestment is more of a moral play than an economic one, and for that reason I still reject the current iteration of the ongoing push to delegitimize Israel.
It ignores the historical contingencies that created the current situation, and places the blame for the current state of affairs on Israel in a morally bankrupt fashion. Only after Israel captured the West Bank from Jordan in the 1967 Six-Day War did cries of occupation arise. Israel, for what it's worth, considers the West Bank disputed territory.
As far as the status quo is concerned, the obsession with the vaunted occupation is inane. The dubiously named "apartheid" wall went up to prevent terror attacks after the Second Intifada. The dubiously maligned checkpoints exist because the threat of Palestinians sneaking into Israel to commit terror attacks is quite legitimate. (I condemn gratuitous uses of violence at these junctures, to be sure, but to deny the necessity of these security measures is tantamount to outright rejection of Israel's right to live in peace.)
Perhaps most importantly of all, placing unilateral blame on one side fosters a sense of enmity and distrust between neighbors that can only act as an obstacle to peace.
The historical and moral cases have been argued to death, though, and I don't expect that proponents of divestment will find them compelling all of a sudden. If they remain convinced of their position on the moral high ground, I dare them to go ahead and advocate divestment to their hearts' content.
Just know that divestment has severe consequences that will probably not make you happy. So by all means, go ahead and divest. I, for one, would be happy to see more money in Sheldon Adelson's ardently Zionist hands.
Continuing to advocate for divestment with this warning in mind reduces the cause from being pragmatic to being punitive; you don't seek to improve the situation, but to punish Israel. That leaves me with one question.
Are you really pro-Palestinian, or are you just anti-Israel?
College Fix contributor Tal Fortgang is a student at Princeton University.
Like The College Fix on Facebook / Follow us on Twitter
IMAGE: Tal Fortgang