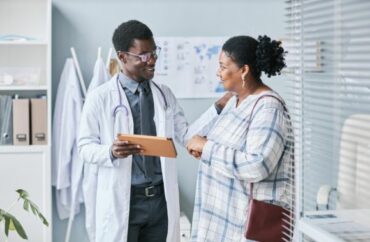 'The New England Journal of Medicine is the world's leading health journal. It's troubling that they indulge woke activists at the expense of common sense and scientific rigor,' anti-woke group says
A Georgetown University doctor has produced a paper recommending changes to medicine that would make it a more "anti-racist institution."
Dr. J. Corey Willams, a graduate of Johns Hopkins School of Medicine and the Yale University Psychiatry Residency Program, says that "Clinicians receive inconsistent instruction on how to use patients' racial identities in clinical documentation and decision making, and often document this information without clear reasons or an understanding of its relevance."
"Routine documentation of racial categories is rooted in the mythology of inherent biological differences between racial groups, especially between Black and non-Hispanic White people," he wrote in the New England Journal of Medicine paper. He had eight other co-authors.
Williams did not respond to multiple requests for comment sent by The College Fix in the past several weeks about his paper, titled "Antiracist Documentation Practices – Shaping Clinical Encounters and Decision Making."
"Depending on how racial identity is employed and contextualized in the (patients') chart, clinicians may perpetuate the codification of racial disparities in service delivery, teaching trainees racist ideas and communicating biases to other clinicians," Williams wrote.
Dr. Williams recommends "[a]dopting documentation practices that encourage antiracism," which he defines as "the active process of identifying and dismantling racism using measures that produce or sustain equity among racial groups, including changing organizational structures, policies, practices, and attitudes."
"We advocate not for more documentation, but for more thoughtful documentation, based on a critical awareness of how race is used and contextualized as a social and political category," he wrote along with his co-authors.
MORE: UMich funds research on 'anti-racist' health departments
The practices involve questioning the relevance of the patient's race, allowing the patient self-identification, considering the patient's experience with racism, and others.
They wrote:
Uncritical use of race leads to the inscription of harmful subtext, contributes to the racialized distribution of health care resources, ignores the dangers of racial stereotyping, and perpetuates the harms of race-based clinical decision making. In addition, giving race false biologic salience displaces a more useful focus on the impact of the biologic embodiment of the racism embedded in the unequal distribution of social, political, and economic resources.
A medical reform group that seeks to fight wokeness in healthcare criticized the proposed changes.
Ian Kingsbury, director of research for Do No Harm, told The Fix that implementing the changes in documentation "threatens to increase of the paperwork burden on doctors," by asking them to provide their experience with racism and racial discrimination.
"There is good evidence that paperwork burdens contribute to doctor burnout and dissatisfaction," Kingsbury said via email. "Policies that would exacerbate this problem are ill-advised."
"The best way to understand a person is by talking to them as a human being and not part of an identity group. The woke rituals for which these researchers advocate only undermine doctor-patient relationships," he said.
"Antiracism is a farcical ideology that imagines that race-blind policies are racist because they sometimes culminate in differences across groups,' he said. "It's unscientific, and it has no place in medicine."
"The New England Journal of Medicine is the world's leading health journal. It's troubling that they indulge woke activists at the expense of common sense and scientific rigor."
MORE: VCU wanted to 'work around' affirmative action ban
IMAGE: Seventy Four/Shutterstock
Like The College Fix on Facebook / Follow us on Twitter