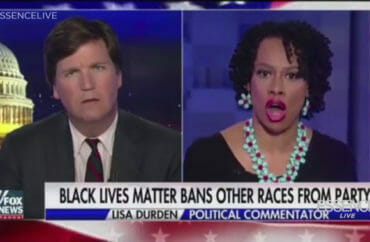 One guy complained about her
When an adjunct professor at Essex County College went on Tucker Carlson's Fox News show last summer to defend the propriety of excluding whites from Black Lives Matter events, her comments drew alarm from the administration.
Who didn't care? The rest of campus.
After Essex refused to turn over documents relevant to the school's claim that a campus outcry led it to terminate Lisa Durden's job, the Foundation for Individual Rights in Education sued the public institution, and now it has finally received the requested documents.
President Anthony Munroe had publicly claimed that Essex investigated Durden's comments because the administration was "immediately inundated with feedback from students, faculty and prospective students and their families expressing frustration, concern and even fear" owing to Durden's expressed views.
This rang hollow to FIRE because Durden never mentioned her Essex affiliation in the segment, nor was it mentioned in a FoxNews.com article.
MORE: Durden suspended after Fox News appearance
Six months after its initial request, FIRE received "194 pages of emails (mostly between administrators), one voicemail message, and 123 pages of lists of adjunct faculty with no apparent relevance to our request," FIRE's Adam Steinbaugh writes today.
Not only do they show that administrators "had already decided to take action" against Durden before anyone complained, but that only a single member of the public – and not a member of the Essex community – had complained to the school about Durden "for the first 13 days" after she went on Fox News.
Here's the partially redacted email from Jeff Brogan:
No individual of this level of hatred and exclusion should be educating young minds. I will be petitioning the removal of this lunatic. Until then, I expect a press release rebuking her racist views. My petition will be mentioned in media sources within a few days. I will not rest until this person if no longer employed here or at any other educational institution.
Brogan got a response nine minutes later from the college's lawyer.
Steinbaugh concludes:
For the next 12 days, the only records of "feedback" about Durden are two emails from professors: one defending her and another joking about the controversy: "only at Essex!" In other words, for the first two weeks after Durden's appearance, the college was "inundated" by three emails — if you count the one in support of Durden.
Administrators were already talking about Durden's job in the past tense the morning it received the lone critical email from a member of the public, according to the long-delayed emails turned over to FIRE.
The real furor only started two weeks later when local media reported Durden worked at Essex, and even then only a few upset messages "claimed some relationship" with the college: Most were from "out-of-state residents."
MORE: FIRE sues Essex for records relating to Durden firing
Essex's belated disclosure of records related to Durden's firing only shows that it falsely claimed the campus was outraged by her views.
The bigger issue is how schools should respond to their professors who are in the limelight, Steinbaugh says:
College professors should be able to engage in rough-and-tumble debates on television. That necessarily means that people might complain, and some on campus might feel uncomfortable. And the First Amendment, as we pointed out when Durden was terminated, prohibits a public university from terminating faculty who speak out on matters of public concern. …

When administrators claim that their actions are necessary to quell an outpouring of concern (or, in some cases, threats of violence), it demonstrates their institutions' unwillingness to absorb the cost of employing professors who speak publicly about matters of public concern.
In this instance, it was a professor who wants to keep some events blacks-only who faced administrative wrath.
In the next instance, it could very well be a professor who opposes same-sex marriage, forced use of gender-neutral pronouns or mandatory diversity training.
Read the post, which includes links to the belated data dump from Essex.
MORE: Don't go easy on racists just because they're not white
IMAGE: Essence/YouTube
Like The College Fix on Facebook / Follow us on Twitter