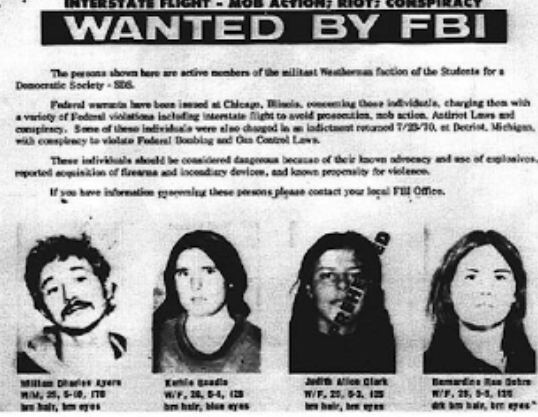 At least a dozen former members of domestic terrorist organizations are college professors, a guest blog on The Other McCain reports.
The report comes on the heels of news that Kathy Boudin, the former American terrorist, is now a professor at Columbia and NYU. Boudin was convicted in a robbery that left two police officers dead in 1981.
Apparently, she is not the only former domestic terrorist who now calls the Ivory Tower home:
"Members of the Weather Underground make up half of this list; some are well known, like Bill Ayers and his wife Bernadine Dohrn, Ayers is now retired from the University of Illinois, while Dohrn is still teaching at Northwestern Law," writes Ryan James Girdusky in a guest blog post Wednesday about the dozen or so former members of domestic terrorist organizations who are now college professors.
"Other lesser-known members of the group include Howard Machtinger, who was charged with conspiring to bomb the Detroit Police Officers Association Building and was on the run from the law for five years from 1973 to 1978. Machtinger now works for the School of Education at the University of North Carolina at Chapel Hill."

"Another Weatherman alumni, Mark Naison, has been a professor at Fordham University for 43 years. … Eleanor Raskin was also involved in the 1968 Columbia University occupation … She began to teach at the State University of New York in Albany and then later at Albany Law School. … "

" … Weatherman, Mark Rudd, former spokesman for students in the Columbia student revolt of 1969 …  is now retired but spent a long career as a math instructor at the Central New Mexico Community College."
CLICK HERE to Like The College Fix on Facebook.