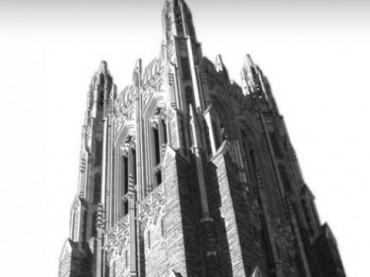 The Chronicle at Duke University has a long investigation into how the Muslim call to prayer, or adhan, from the Duke Chapel came to be suggested and then rescinded after public outrage.
Written by a columnist who's "involved in the Chapel's Christian and interfaith ministries," the story places the onus squarely on Christians:
Chapel staff first conceived the idea for a bell tower call to prayer in mid-September. Duke's Chapel—which for nearly a century has stood as the University's most iconic landmark—has a long-standing tradition of hosting events for different student groups and different faiths.
"The idea of a call to prayer from the Chapel tower is just a continuation of what already has been," said Dean of the Chapel Luke Powery[, who was ordained by the Progressive National Baptist Convention].
The amplification of the adhan was intended to be minor:
Students would climb to the top of the Chapel and chant the 60-second adhan while facing Islam's holy city of Mecca; a small speaker on the Chapel quad would make the call audible on the ground.

[Michael] Schoenfeld[, vice president for public affairs and government relations,] said the amplified sound likely would not have been audible past the bus stop—not even 500 feet from the Chapel.

"As we understood it, it was very, very small and not likely to be disruptive in any way," [Vice President for Student Affairs Larry] Moneta said, adding that the device used for the actual event was a "$12 RadioShack speaker."
But the decision blindsided some relevant officials:
In a public letter on Jan. 15, Divinity School Dean Richard Hays called the call to prayer "ill-advised" and said he was not consulted or even notified in advance. Before allowing Muslims to make use of a place of Christian worship, he said the discussion "should take into careful account the perspective of millions of Christians living in Islamic societies where their faith is prohibited or persecuted."
Lots of people complained to the school before Franklin Graham's call to action, but the school insists it didn't cave to financial threats:
When I asked about donor influence, [President Richard] Brodhead was adamant.

"That's absurd," he said. "The notion that Duke would do something against its principles because of a donation is foreign to the thinking of this university. No serious donor of this university would ask or expect such a thing."

After he stated it in general terms, I asked him to specifically confirm that no serious donor had asked for the change.
"I promise you," he said, "I raise my hand and swear to you."
Like The College Fix on Facebook / Follow us on Twitter