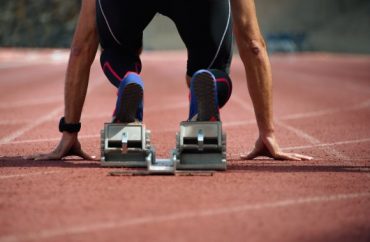 You knew it was inevitable: Some female high school runners are questioning the fairness of the Alaska state track meet results after a biological male made it to the finals in the 100 meter and 200 meter dashes.
Haines High School senior Nattaphon Wangyot, an immigrant from Thailand, was born male but identifies as female. She was allowed to compete on girls' teams because the Alaska School Activities Association allows individual districts to decide how to handle transgender athletes on teams.
Haines' policy states "For the purposes of gender identification for interscholastic activities, the district will consider the gender identity based on the student's consistent declaration of gender identity, their actions, attitude, dress and mannerisms."
If a district does not have a gender policy, a competing student must compete based on his/her biological gender.
Although Wangyot did not win either event's final, she took slots away from other — biological — females.
MORE: Lawmaker flips out on prof who says transgenders should not be indulged
"I'm glad that this person is comfortable with who they are and they're able to be happy in who they are, but I don't think it's competitively completely 100-percent fair," said Saskia Harrison, who just missed the cut for the 100 meter final.
Another runner, Peyton Young, said "I don't know what's politically correct to say, but in my opinion your gender is what you're born with."
The Alaska Dispatch News reports:
[Alaska Family Action President Jim] Minnery said ASAA should change its transgender policy.

"Unfortunately, in adopting a policy that allows students to play on sports teams of the opposite biological sex, the Alaska High School Activities Association strayed from the boundaries of Title IX," he said, referring to the 1972 federal law that forbids discrimination based on sex.

ASAA executive director Billy Strickland said he's confident ASAA's transgender policy is in compliance with Title IX.

"Very much so," he said.

MORE: Dept. of Ed. can't force schools to let transgender kids use wrong restroom

He said the Office of Civil Rights — the federal entity charged with enforcing Title IX – recently addressed the issue in a letter sent to school districts nationwide.

"Based on their interpretation, allowing students to compete under their gender identification should be enforced under Title IX," Strickland said.

The NCAA and the International Olympic Committee both allow athletes to compete based on gender identification, provided that athletes who were born biologically male but identify as female are undergoing hormone replacement therapy.
MORE: Transgender student gets upset when people are nice to her
There is no indication that Wangyot is on any such therapy as yet.
Competitor Peyton Young added "It's the DNA. Genetically a guy has more muscle mass than a girl, and if he's racing against a girl, he may have an advantage."
Like The College Fix on Facebook / Follow us on Twitter
IMAGE: Shutterstock