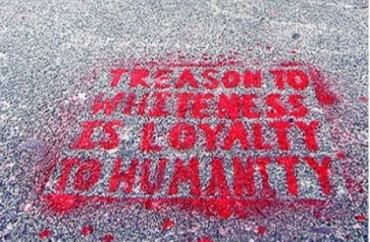 UPDATED
What is it with Philadelphia-area college professors?
Recently, a prof from Penn and another from Temple whined about being put on the Professor Watchlist due to their social media shenanigans; now, it seems, Drexel University's George Ciccariello-Maher must have felt left out.
An admitted "actual communist," the radical political theorist tweeted on Christmas Eve evening "All I Want for Christmas is White Genocide."
This is a professor at Drexel University wishing death upon whites. This is unacceptable and I'm calling for his resignation immediately. pic.twitter.com/vYoG0DNOT3

— Steve Hirsch (@Stevenwhirsch99) December 26, 2016
The prof's tweets are now protected ("brave" soul that he is), but at least the university is expressing concern about his language:
Drexel became aware today of Associate Professor George Ciccariello-Maher's inflammatory tweet, which was posted on his personal Twitter account on Dec. 24, 2016. While the University recognizes the right of its faculty to freely express their thoughts and opinions in public debate, Professor Ciccariello-Maher's comments are utterly reprehensible, deeply disturbing, and do not in any way reflect the values of the University.

The University is taking this situation very seriously. We contacted Ciccariello-Maher today to arrange a meeting to discuss this matter in detail.
Thomas Lifson at the American Thinker wonders: "The university now is on the spot. Will it allow the professor to continue teaching after expressing a desire to murder his Caucasian students? Is that a forgivable offense? What about safe spaces for the Caucasians on campus?"
Ciccariello-Maher certainly is no stranger to foul social media conduct. Over a year ago in response to a South Carolina school resource officer's handling of a defiant student, Ciccariello-Maher had tweeted the officer should be "put up against a wall" and then done "like Old Yeller."
He subsequently "joked" about not knowing about Old Yeller's ultimate fate, and complained that his Twitter feed was filled "with hateful racism and misogyny" regarding his remarks.
According to his bio, Ciccariello-Maher "has taught radical theory and politics at Drexel, U.C. Berkeley, San Quentin State Prison, and the Venezuelan School of Planning in Caracas." One review of his latest work, Building the Commune: Radical Democracy in Venezuela, says Ciccariello-Maher "reminds us of the extraordinary achievement of Venezuela's communes in fostering direct democracy at the community and workplace scales."
"Extraordinary achievement" indeed.
UPDATE: As with his tweet about the officer from South Carolina, Ciccariello-Maher is now claiming his "genocide" tweet was a joke. In a statement to the Drexel student newspaper The Triangle, the professor says
On Christmas Eve, I sent a satirical tweet about an imaginary concept, 'white genocide.' For those who haven't bothered to do their research, 'white genocide' is an idea invented by white supremacists and used to denounce everything from interracial relationships to multicultural policies (and most recently, against a tweet by State Farm Insurance). It is a figment of the racist imagination, it should be mocked, and I'm glad to have mocked it.

What I am not glad about is that this satirical tweet became fodder for online white supremacists to systematically harass me and my employer, Drexel University. Beginning with Breitbart.com — formerly the domain of special counselor to the president-elect, Steve Bannon — and running through the depths of Reddit discussion boards, a coordinated smear campaign was orchestrated to send mass tweets and emails to myself, my employer and my colleagues. I have received hundreds of death threats.

Drexel University issued a statement on the matter, apparently without understanding either the content or the context of the tweets. While Drexel has been nothing but supportive in the past, this statement is worrying. While upholding my right to free expression, the statement refers to my (satirical) tweets as 'utterly reprehensible.' What is most unfortunate is that this statement amounts to caving to the truly reprehensible movements and organizations that I was critiquing. On the university level, moreover, this statement — despite a tepid defense of free speech — sends a chilling message and sets a frightening precedent. It exposes untenured and temporary faculty not only to internal disciplinary scrutiny, but equally importantly, it encourages harassment as an effective means to impact university policies.
Nice work there, prof. It's everybody's fault but your own, eh?
MORE: Drexel prof tweets that school cop should get 'done like Old Yeller'
MORE: Drexel prof: Obamacare 'complex,' not passed via deception
MORE: Philly area professors peeved at being put on 'Professor Watchlist'
Like The College Fix on Facebook / Follow us on Twitter
IMAGE: JoshParrish/Flickr